Mitchell Weiss, Chief Technology Officer for Seegrid Corporation, global leader of robotic vision-guided automated guided vehicles (AGVs), will present the companys automation products at the Ground Robotics Capability Conference and Exhibition organized by the National Defense Industrial Association. Weiss presentation will take place during the panel on "Synergy and Parallel Markets" at 10 a.m. on August 13, 2014.
Weiss explained, "During the presentation I will highlight the challenges Seegrid automated guided vehicles solve, why customers are deploying the technology solution, and the acceptance of automation in the workplace. Attendees will also be educated on the technology testing validation and verification process used to certify Seegrid automated guided vehicles."

The Ground Robotics Capability Conference and Exhibition is scheduled for August 13-14 at the College Park Marriott Hotel and Conference Center in Hyattsville, Maryland. The conference theme is "What Does the Next Era of Ground Robotics Hold?" The conference purpose is to provide industry and government a forum to identify technologies that meet the future needs of the warfighter.
"Seegrids vision guided technology is already at work in factories and warehouses throughout North America and Europe, and we believe it can also have a positive impact in defense applications," said Weiss.
The conference and exhibition is open to the public. Those interested in attending must register by visiting http://bit.ly/1pD5MRH
About Seegrid
Seegrid Corporation, global leader of robotic vision-guided automated guided vehicles (AGVs), designs, engineers, and manufactures AGVs for the materials handling industry to operate with simplicity, flexibility and affordability. The companys state-of-the-art navigation technology requires no infrastructure for navigation—no wires, lasers, tapes, or magnets. Seegrid vision-guided AGVs are revolutionizing the movement of materials in manufacturing and distribution environments.
Creating economic and operational advantages, robotic pallet trucks, tow tractors, and walkie stackers optimize workflow processes by increasing productivity and reducing labor and operating costs. Seegrid AGVs improve workplace safety, reduce equipment and product damage, and deliver a rapid return on investment.
Maximize efficiency and productivity of vision-guided AGVs by utilizing Seegrid Supervisor, a network appliance, connecting, monitoring, and controlling a fleet of AGVs within an operation.
Recent acknowledgements include a 2014 Edison Award, Manufacturer of the Year award, and chosen as one of Food Logistics Top 100 software and technology providers. Seegrid was named to the list of Fast Company 50 Most Innovative Companies and Top 10 Most Innovative Robotic Companies 2013. Follow on Twitter @Seegrid.
Featured Product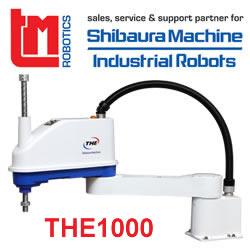 Designed for assembly and inspection applications in the electronics equipment and automobile components industries, the THE600 SCARA is a powerful automation tool. Advancing from the specifications of the existing THE400 SCARA, the THE600 has been developed to meet growing demand for fast-cycle automation. The THE600 model includes improvements in synchronised control and tracking precision. The THE600 is compact in design and offers improved high speed, with 60 per cent higher payload capacity than competing SCARA models in the same price range, making it the price-to-performance leader. Affordable price, impressive performance.