New Technology Enables Up to 50 Percent Faster Line Acquisition to Increase Efficiency and Reduce Drive Time
SUNNYVALE, Calif., Aug. 11, 2014 -- Trimble (NASDAQ: TRMB) announced today that it has added advanced line acquisition technology to its Autopilot™ automated steering system—Trimble® OnSwath technology. It reduces the time lost turning at the end of the row by enabling the vehicle to make a tighter turn and approach the next line, or crop row, 50 percent faster. Using OnSwath, the farmer can decrease idle driving time, fuel consumption, soil compaction, crop damage, and working time in the field—which can lead to cost savings. OnSwath is a free upgrade to customers using the Trimble Autopilot automated steering system.

The new OnSwath technology allows the user to customize their line acquisition to the vehicle, operation and operator preference including adjusting turn angle, approach angle and speed. Using OnSwath the vehicle projects its path to the line, which allows it to get online faster. As a result of these improvements, vehicle performance is more controlled, predictable and repeatable.
"By adding OnSwath to Trimble's Autopilot steering system, we've enabled farmers to be more efficient with their field operations," said Erik Ehn, Smart Machines business area director of Trimble's Agriculture Division. "OnSwath saves time, money and fuel, while also decreasing soil compaction and crop damage. Since we're providing the technology at no additional cost, farmers who use Trimble's automated guidance can leverage OnSwath and measure how much it can save their farm."
"With Trimble's OnSwath, I'm able to get online much faster and more accurately," said Joe Brightly, who began using the OnSwath technology this spring for planting and strip tilling operations. "After an end of row turn, I can get online in a matter of only a few feet, which has saved me a lot of time."
OnSwath is currently available with a software update to the Trimble Autopilot system. Contact a Trimble reseller for more information. To locate a reseller, visit http://dealerlocator.trimble.com/.
About Trimble's Agriculture Division
Trimble Agriculture solutions enable customers to maximize efficiency and reduce chemical and fertilizer inputs while also protecting natural resources and the environment. Trimble's precision agriculture solutions cover all seasons, crops, terrains, and farm sizes, and its brand-agnostic strategy allows farmers to use Trimble products on most vehicles in their fleet—regardless of manufacturer. To enable better decision making, Trimble offers the Connected Farm solution which allows farmers to collect, share, and manage information across their farm in real time. To optimize water use, Trimble provides water solutions for irrigation, drainage, and land leveling. Trimble's product suite includes vehicle and implement guidance and steering, as well as a portfolio of correction options that are the most versatile of their kind in the industry. Additional solutions include an unmanned aircraft system (UAS) for aerial imaging and mapping; application control for seed, liquid, and granular products; a harvest solution; and farm management software.
For more information on Trimble Agriculture, visit: www.trimble.com/agriculture.
About Trimble
Trimble applies technology to make field and mobile workers in businesses and government significantly more productive. Solutions are focused on applications requiring position or location—including surveying, construction, agriculture, fleet and asset management, public safety and mapping. In addition to utilizing positioning technologies, such as GPS, lasers and optics, Trimble solutions may include software content specific to the needs of the user. Wireless technologies are utilized to deliver the solution to the user and to ensure a tight coupling of the field and the back office. Founded in 1978, Trimble is headquartered in Sunnyvale, Calif.
For more information, visit: www.trimble.com.
Featured Product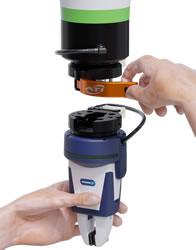 Simpler, stronger, and more precise. ATI Industrial Automation has developed a series of Manual Tool Changers that provides a cost-effective solution for quickly changing tools by hand. They feature a unique design that combines high strength, excellent repeatability, and a patent-pending screw-cam locking mechanism with multiple fail-safe features, which resists vibration and prevents loosening. These robust and compact Manual Tool Changers can handle payloads up to 80 pounds (36 kg) and pass pneumatics and electrical signals.