Anaheim Automation releases the HMI-KCO-MT4230T, their new $99.00 human machine interface. One of the most competitively priced HMIs on the market; it offers the same features as a standard HMI, at a fraction of the cost.
Anaheim, CA August 09, 2014

Anaheim Automation now offers the most competitively priced human machine interface on the market. Recently released, the new HMI-KCO-MT4230T (http://www.anaheimautomation.com/products/hmi/color-display-item.php?sID=347&serID=2&pt=i&tID=998&cID=414) HMI delivers comparable features to their other line of HMIs, at a price that is easily affordable - just $99. At first glance the HMIs low price makes it appear to have only the bare minimum capabilities. However, the HMI can perform the same functions as other HMIs in its class, the only difference being its size. The HMI has a compact screen size of 4.3 inches, and stands only 33mm thick.
This new human machine interface grants users access to a memory map of the controller. It allows for flexibility and total control of field devices; by adding an HMI to an existing system the user can gain full control of their current standalone system, making their static application completely dynamic. The internal workings of the PLCs are visible and the functions are changeable. It allows for a quick and easy change on the factory floor, adding convenience while and saving the user time. Additionally, the HMI allows for easy connectivity to virtually all major PLCs on the market so integration is seamless.
Anaheim Automation is excited about this new offering. Their $99.00 HMI performs all of the exact same functions as the standard HMI, which can cost around $1,000.00. The easy-to-use software that accompanies the HMI is free of charge and available to download online, making the cost to prototype this HMI even cheaper. Furthermore, integration into an existing application involves far less risk due to the low cost of the unit. Anaheim Automation ensures that the quality of their HMI, like all other products they manufacture and distribute, abides by their strict quality standards, so their users can be assured that the construction of their HMI is not sacrificed with the low cost. The combination of quality, cost, and functionality that this new unit delivers is why Anaheim Automation is considering this the cornerstone of their HMI product line (http://www.anaheimautomation.com/marketing/hmi-plc/human-machine-interfaces.php). They are hoping the introduction of this new unit opens the door to a larger market for their programming and communication interface product line.
About Anaheim Automation:
Anaheim Automation, Inc. is a manufacturer and distributor of motion control products with over 45 years of experience. Combining enthusiasm, dedication, and innovation, Anaheim Automation strives to supply thousands of customers worldwide with the quality components they require to make their application succeed. Anaheim Automation surpasses competitors with their Stepper product offering, providing one of the largest in the industry. Vast lines of Brushless and Brush DC, Servo and AC motors, controllers and drivers are also offered at competitive prices. High-precision Gearboxes, Tables, Linear Guides, and more provide increased performance and efficiency. For more information about Anaheim Automation and their products, call 714-992-6990 or visit http://www.anaheimautomation.com.
Featured Product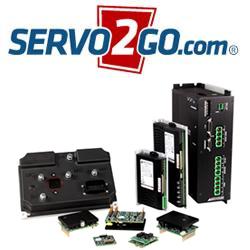 Engineered to drive brushless and brush servomotors in torque, velocity or position mode, Servo2Go.com offers a broad selection of servo drives in a wide range of input voltages and output power levels.