SOLIDWORKS Education Community Passes 100,000; New Edition Helps Prepare Students for STEM Jobs
VELIZY-VILLACOUBLAY, France--Dassault Systèmes (Euronext Paris: #13065, DSY.PA), the 3DEXPERIENCE Company, world leader in 3D design software, 3D Digital Mock Up and Product Lifecycle Management (PLM) solutions, today announced SOLIDWORKS Education Edition 2014-2015. Powered by the 3DEXPERIENCE platform, the latest version of SOLIDWORKS Education Edition includes numerous new additions to its 3D design software applications portfolio, delivering a rich array of offerings that further the ability of students to design, including 3D CAD, Simulation, Product Data Management, Technical Communication and Electrical Design.

As the global SOLIDWORKS community surpasses 100,000 certified users, educators and administrators recognize SOLIDWORKS training, education and certification are major assets validating student expertise to prospective employers.
"As a Certified SOLIDWORKS Associate (CSWA) provider, Clemson Universitys engineering students have contributed to more CSWAs than any other US university. In fact, Clemson is one of the top producers of CSWAs in the world," said John Minor, General Engineering, Clemson University. "The General Engineering program at Clemson has provided a solid foundation to prepare students for our global commercial customers."
"The world needs engineers, innovators, and design leaders. Dassault Systèmes is committed to improving STEM education and bringing those next generation leaders to the forefront," said Bertrand Sicot, CEO, SOLIDWORKS, Dassault Systèmes. "The SOLIDWORKS education community is full of SAE Collegiate Design Series competitors and FIRST Robotics winners."
The integrated SOLIDWORKS Education 2014 -2015 applications portfolio includes new tools and enhancements to improve teacher efficiency, shorten student design processes, increase team collaboration and enable educational productivity across numerous areas. Key new SOLIDWORKS Education Edition additions include, among others:
*Teaching guides and lessons, updated with new content to provide educators with additional support for developing Science, Technology, Engineering, and Mathematics (STEM) curriculum. Click here for more information on enhanced sample curriculum;
*Libraries of robot assembly models to help competitive teams in FIRST robotics and other platforms such as LEGO, TETRIX by Pitsco and MATRIX. More examples will be developed as contest rules apply throughout the upcoming school year;
*SOLIDWORKS Simulation Premium for interactive FEA results. Click here for further details;
*Path Dimension, a key sketch feature for robot and FSAE teams that need to design with chains and belts. Click here for further details;
*Curve-Driven Patterns, a feature that enables faster and easier creation of patterns, such as chains and conveyor systems. Click here for more details;
*Assembly Explode, to add rotational explode to components and more clearly and effectively communicate product assembly processes on drawings and in animations. Click here for more details;
*SOLIDWORKS Electrical, sold separately, is fully integrated into SOLIDWORKS Education Edition. SOLIDWORKS Electrical enables students in engineering, robotics, and other disciplines to create electrical projects starting with 2D system schematics and ending with 3D routing and cabling interconnecting components.
Qualified schools are given SOLIDWORKS Student Edition licenses at no charge for use by their students outside the classroom. In addition, schools with a SOLIDWORKS Education subscription can become a Certified SOLIDWORKS Academic Exam Provider and administer the Certified SOLIDWORKS Associate (CSWA) exam to their students.
In a new step for SOLIDWORKS Education, beginning this month, all FIRST Robotics teams are eligible for a SOLIDWORKS Robotics Sponsorship, which is based on and includes SOLIDWORKS Education Edition 2014-2015.
To read more about students using SOLIDWORKS to compete in events such as the AUVSI 2014 Aerial Robotics Competition, as well as create and complete senior class robotics projects, visit http://blogs.solidworks.com/teacher.
For more information about SOLIDWORKS Education Edition, visit www.solidworks.com/edulaunch/overview.htm.
About Dassault Systèmes
Dassault Systèmes, the 3DEXPERIENCE Company, provides business and people with virtual universes to imagine sustainable innovations. Its world-leading solutions transform the way products are designed, produced, and supported. Dassault Systèmes collaborative solutions foster social innovation, expanding possibilities for the virtual world to improve the real world. The group brings value to over 190,000 customers of all sizes, in all industries, in more than 140 countries. For more information, visit www.3ds.com.
Featured Product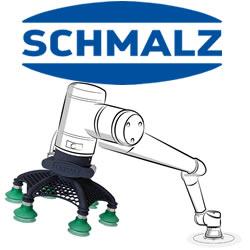 In order to interact with their environment and perform the tasks, lightweight robots, like all industrial robots, depend on tools - and in many cases these are vacuum grippers. These form the interface to the workpiece and are therefore a decisive part of the overall system. With their help, the robots can pick up, move, position, process, sort, stack and deposit a wide variety of goods and components. Vacuum gripping systems allow particularly gentle handling of workpieces, a compact and space-saving system design and gripping from above. Precisely because the object does not have to be gripped, the vacuum suction cupenables gapless positioning next to each other.