NEXCOM will showcase their fieldbus concentrator NISE 300 designed to help build a connected factory and harness the power of big data at this year's International Manufacturing Technology Show in Chicago, IL from September 8-13, 2014.
Fremont, CA August 12, 2014

The International Manufacturing Technology Show (IMTS) will be making its bi-annual appearance at Chicagos McCormick Place this September 8-13, 2014. Over 100,000 manufacturing professionals from around the world will convene in the windy city where they can interact with 1,900 exhibitors to learn new ideas and insights on the manufacturing industry.
At this years IMTS, NEXCOM, an innovative supplier in vertical application markets, will be demonstrating its total solutions, bringing in cyber-physical systems to construct a future of smart, green, and urban production. Visitors will witness how NEXCOM's total solutions stay on the fast track to realize Factory of Things and to build a smart factory in a cost effective manner.
Among NEXCOMs line-up of demonstration products will be the NISE 300 Fieldbus Concentrator Solution, which is compatible with advanced control networks using standards such as PROFINET, PROFIBUS, EtherNet/IP, DeviceNet, and EtherCAT, and is sure to arouse widespread interest at IMTS. To demonstrate NISE 300's capability, NEXCOM will have it installed with OPC Server software and configured with VIPA I/O, VIPA PLC, and Hilscher PROFINET, PROFIBUS, and EtherNet/IP modules. The solution provides an open architecture for cross-fieldbus communication between HMI and SCADA systems.
The fanless computer NISE 300 features Intel® Core™ i5-4402E processor and provides high expandability to support multiple fieldbus technologies and internet connectivity. Designed to fit in a 2U rackmount chassis, the NISE 300 is a high computing data server and communication gateway which provides cross-fieldbus communication, makes data-based decisions, and pushes factories down the path towards lean manufacturing.
To learn more about how NEXCOM PC-based intelligent systems offers cost and engineering efficiency to facilitate the transition from existing legacy automation systems to smart-factory-ready infrastructures, you may visit NEXCOM at IMTS Booth # E-4541 from September 8-13, 2014, or check them out at http://www.nexcom.com.
About NEXCOM: Founded in 1992, NEXCOMs mission is to be a quality partner in engineering, manufacturing and services. To enable its customers to successfully deploy key projects in a diverse range of industries, NEXCOM provides a wide range of computing solutions for the increasing demands of industrial environments. Those solutions include embedded computing, powerful fanless computers, industrial rackmount computers, industrial wireless solutions, machine automation, panel PCs, and PC-based factory automation.
Featured Product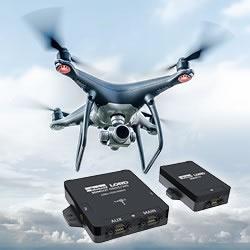 The new complete inertial navigation solution comes with GNSS/INS 3DMGQ7 sensor, 3DMRTK correction modem and real time SensorCloud RTK correction network. The sensor comes with Dual antenna GNSS, tactical grade IMU with centimeter-level accuracy with RTK. Low profile and light weight at 78 grams, this sensor is The sensor is optimized for size and weight in Unmanned Ground Vehicles, mobile robots and autonomous vehicles. The network interface 3DMRTK modem is seamlessly integrated into the 3DMGQ7 sensor supports industry-standard NMEA and RTCM 3.1 protocols. The network RTK support comes with cellular data plan. The SensorCloud RTK is a cloud-based RTK correction system with private encrypted data stream. Check out our G Series and C Series OEM products.