Beijing-based Noitom Ltd. revolutionizes the motion capture industry with the smallest, most versatile and adaptable wireless system, at a price that makes the technology affordable for anyone. Starting at USD $200, the company is launching its campaign on Kickstarter and unveiling production prototypes to the industry at SIGGRAPH in Vancouver.
Vancouver, Canada August 11, 2014

Noitom Ltd. will create a small revolution as it unveils its Perception Neuron™ Motion Capture system to computer and interactive graphic professionals attending the annual SIGGRAPH conference in Vancouver. Touted as one of the smallest, most versatile and adaptable system ever designed, affordability is one of the biggest "wow" factor. With pricing starting a US$ 200, Perception Neuron is redefining an industry that is used to price tags in the tens of thousands.
Perception Neuron was developed on four precepts— size, adaptability, versatility and affordability. The system is based on interchangeable motion sensors called Neurons, each about 1cm x 1cm that connect to a Hub. A Hub can connect from 1 to 30 Neurons. The adaptability of the Perception Neuron system allows the wearer to move the individual Neurons where you need them — on a hand for detailed movement, anywhere on the body for full body capture or even on accessories. This level of customization is groundbreaking. The systems is also ready to go out of the box as it comes with software development kits for Unity, Windows, OSX and Oculus Rift in addition to open source games. Perception Neuron can either be operated via WIFI or USB and it is powered by any USB power pack.
"Although making Perception Neuron accessible to everyone was one of our four precepts, we built a professional system that outperforms most, hundreds of times more expensive," explains Tristan Dai, CTO and co-founder of Noitom. "Motion capture has not evolved much over the years and it has remained the playground of big studios and even bigger budgets. We want to change that paradigm and allow all the creative minds out there access to this amazing technology. I think we will see people use Perception Neuron in ways we have not yet even imagined."
Perception Neuron is being launched as a Kickstarter campaign. 10-Neuron packages start as low as USD$ 200 with 30-Neuron Packages topping at USD $550. "Kickstarter was our platform of choice for the launch because it is a global community of makers, forward thinkers and creative individuals," explains Haoyang Liu, CEO and co-founder of Noitom. "We felt this was the perfect environment to showcase Perception Neuron because we know that its use and function go well beyond what we have imagined — and this is the community of people that will come up with a thousand new and innovative ways to make Perception Neuron come to life."
Perception Neuron is on display and being demoed at the Noitom booth (#533) at SIGGRAPH Vancouver from Tuesday August 12 to Thursday August 14 at the Vancouver Convention Center. Media is invited to come by the booth or contact our media coordinator at noitom(at)myrockgroup(dot)com. Media kits are also available by requesting them from the media coordinator.
About Noitom
Founded in 2011, Noitom Ltd. works with a team of dedicated engineers who develop world-class motion capture technology for consumer and commercial markets through the integration of MEMS sensors, pattern recognition, human kinetics and wireless transmission. Noitom is an international leader in innovative technology for use in animation, film, medical applications, robotics and gaming. Noitom is headquartered in Beijing with affiliate offices in Shenzhen. For further information about Noitom and its services, please visit, http://www.noitom.com. For general inquiries, please email, info(at)noitom(dot)com.
Featured Product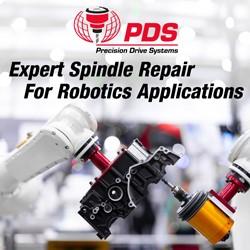 Precision components machined by CNC robot machining systems require compact, lightweight, and high-speed motorized spindles capable of delivering higher efficiency, performance, and reliability than those used in many other industries. That's why manufacturers of milling, cutting, trimming, grinding, polishing, and deburring trust Precision Drive Systems (PDS) to provide accurate and dependable spindle repair to perform to the most exacting standards.