Modular automation solution unifies CNC, PLC, HMI, robotics, safety and more
At this year's International Manufacturing Technology Show (IMTS), from September 8-13 in Chicago's McCormick Place, BR will exhibit its innovative automation solutions at booth E-4901. B&R specializes in standards-based, scalable and modular control systems integrating CNC, logic, general motion, robotics, human-machine interface (HMI), safety, I/O and data acquisition in a unified software development environment.

Benefits of integrated control
The efficiency of CNC machine control development and operation can be improved by replacing traditional systems with an integrated, multifunctional control platform. Traditional systems include logic, machine-specific technologies, point-to-point movement, path-based interpolated movement and visualization, each requiring hardware interface and communication software to work together. With B&R's integrated solutions, a single software development environment, Automation Studio, run under the same hard real-time operating system on a single processor over deterministic industrial Ethernet unifies all these functionalities. The straightforward, standards-based design approach lets OEMs easily and independently implement machine processes on the controller without need for intervention by the control supplier.
This benefits both machine builders and users by streamlining engineering, hardware, training and service costs while delivering uncompromising performance, flexibility and scalability. As a result, machine builders can respond to customers' needs more rapidly while maintaining the integrity of their intellectual property.
Scalable CNC and robotic control
The solution is completely scalable with all motion control technology, including, but not limited to, hydraulics, steppers, servos, linear and rotary actuators, and pneumatics. It integrates seamlessly into the machine application, allowing it to be customized for the specific task at hand. The flexible design also makes it simple to integrate robotic control with CNC. Kinematics for various types of robotic control -- such as SCARA, delta, articulated, portal and gantry -- are supported. The onboard control also eliminates the need for additional PLCs to perform auxiliary functions such as infeeds, outfeeds, conveyance, stackers and de-stackers.
Technology highlights - mainstream processing power
At IMTS, B&R will introduce its new Panel PC 2100 that implements the latest Intel® Atom technology. The graphics engine used in Intel® Atom processors is derived from Core i technology and provides powerful processing all the way up to Full HD and delivers enhanced graphic capabilities in SCADA and other HMI applications. Available with single-, dual- or quad-core processors, the computing power of the Panel PC 2100 is fully scalable. The Panel PC 2100 can be the machine builder's single, integrated control for standard machine control, HMI, CNC, and robotics.
IMTS attendees can also discover the latest developments in the modular software environment, Automation Studio 4. Automation Studio supports OPC UA clients and servers directly on the controller, allowing vertical communication to SCADA, MES and ERP systems as well vendor-independent communication from PLC to PLC.
B&R will also introduce its highly responsive new reACTION technology, integrated directly into I/O modules and delivering response times of 1 µs for extremely time-critical applications.
Featured Product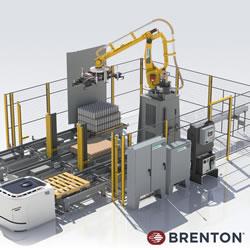 Brenton is a leader in robotic solutions with standard product offerings including palletizing and depalletizing for efficient an option for carrying hard-to-handle products, as well as larger scale systems with an optimized footprint; and case and carton loading solutions for numerous industries. In addition, Brenton works with customers on integrated solutions, offering robotics in a broad spectrum of robotics to fully integrate end of line systems. Brenton helps packaging customers protect their reputation and grow the trust of their consumers.