RIA, AIA and MCA Membership at Highest Levels Ever
(Ann Arbor, Michigan, USA) The Association for Advancing Automation (A3), the umbrella group for Robotic Industries Association (RIA), AIA - Advancing Vision + Imaging and Motion Control Association (MCA), announced that its three associations have reached all time highs for membership. As of the end of July, RIA now has 334 company members, AIA is also at 334 members and MCA consists of 111 members.

"We are gratified that so many companies around the world place their confidence in A3 and its member associations to help them achieve their goals," said Jeff Burnstein, President of A3. "Across the three associations we are now 779 company memberships strong. Its a great time to be in the robotics, vision and motion control industries as more companies realize how important it is to automate their operations in order to compete globally."
"RIA is celebrating its 40th anniversary this year as the advocate for the robotics industry," said Stu Shepherd, Chairperson of the Board of RIA and CEO Americas - KUKA Robot Group. "This year has been particularly significant for RIA. Membership is on the rise with 10% increase since 2013 and RIA refreshed their brand with the launch of a new logo and website in July. The effort of RIA to grow the association signifies their dedication to serve and connect the global robotics community."
"This year marks record membership for AIA as well as its 30th anniversary as an association," said Steve Mott, Chairperson of the Board of AIA and Vice President of Components Express, Inc. "AIAs strong membership indicates that the vision and imaging industry recognizes the value AIA brings as a trade association. AIA continues to serve the industry with events like THE Vision Show and programs like AIAs vision standards. I am looking forward to seeing AIAs continued growth and being part of the many important activities AIA has coming up on the horizon."
"Over the last year MCA has experienced tremendous growth with a 19% increase in membership," said John Hegel, Chairperson of the Board of MCA and President of American Control Electronics. "MCA has an active and engaged membership base and together were helping spread awareness of important motion control technologies. In addition to providing educational webinars, relevant market data, and key networking opportunities, MCA members are successfully reaching new automation buyers through our Automate trade show. MCA is dedicated to helping motion control companies develop new opportunities that will grow their business."
About Association for Advancing Automation (A3)
The Association for Advancing Automation is the global advocate for the benefits of automating. A3 promotes automation technologies and ideas that transform the way business is done. A3 is the umbrella group for Robotic Industries Association (RIA), AIA - Advancing Vision + Imaging, and Motion Control Association (MCA). RIA, AIA, and MCA combined represent more than 775 automation manufacturers, component suppliers, system integrators, end users, research groups and consulting firms from throughout the world that drive automation forward. For more information, please visit our websites: A3 - www.a3automate.org. RIA - www.robotics.org. AIA - www.visiononline.org. MCA - www.motioncontrolonline.org.
Featured Product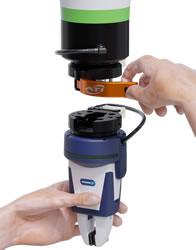 Simpler, stronger, and more precise. ATI Industrial Automation has developed a series of Manual Tool Changers that provides a cost-effective solution for quickly changing tools by hand. They feature a unique design that combines high strength, excellent repeatability, and a patent-pending screw-cam locking mechanism with multiple fail-safe features, which resists vibration and prevents loosening. These robust and compact Manual Tool Changers can handle payloads up to 80 pounds (36 kg) and pass pneumatics and electrical signals.