Colorado Springs-based 3 Axis CNC & 5 Axis CNC Router Original Equipment Manufacturer (OEM), Diversified Machine Systems (DMS), announces Fagor Automations new auto-tuning capability to improve machining efficiency and performance.
Colorado Springs, CO August 14, 2014

Diversified Machine Systems' (DMS) international strategic partner, Fagor Automation announces a new technology feature that automatically fine-tunes Machine Servo Performance to maximize your CNC machine tools efficiency and functionality. Developed as a tool that can be loaded directly onto a Fagor 8065, 8070 CNC or on a PC, the Auto-Tuning feature has the ability to carry out a fine Servo-Performance tune one axis at a time, or all axes automatically.
The program allows for multi-machine tuning, by utilizing an ICON directory for each selection. The Main Tuning Screen displays a Graphic section, Menu Bar, ICON bar, Axes Bar, Command Bar, Parameter Table, Monitoring area, Results area, Data information of all active commands and a Status Bar, thus providing a single page simple layout that allows quick and easy access to any data the User desires with a single click. From the Main menu, with the ICON keys, you can quickly jump to the Event Log, Configure Mode or Display Help mode or back to the Main Menu at any time.
Even during the tuning process, operators can start, stop, pause or continue the tuning procedure via menu chosen keys. Within the Graphics mode, you can display the Bode frequency response diagrams that allow the user to interpret the dynamic behavior of the axes, and make decisions for later readjustments of the axes control loops.
Within the Operating mode, the user takes measurements and develops a more detailed display of the various Diagrams. The user may activate up to 4 channels, or modify the scale shown. After completion of the Auto-Tuning Process, the user can then save all changes made with the Validate command.
The Fagor Auto-Tuning feature has shown dramatic improvements in not just Part-Finish, but also Cycle Speeds, due to an optimized Servo Response that matches the dynamics of the Machine Tool size, weight and inertia.
Machine reliability and longevity will also be improved due to a Servo System that provides more fluid machine movements, hence reducing mechanical stress.
"Were excited about the continued improvements to the 8065 and 8070 CNC Controllers, because we know our customers are always looking for ways to streamline and improve their machining processes," says Ed Hilligrass, DMS Executive Vice President & CSO. "Much like Fagor, we are always striving to give our clients a better experience."
Fagor Automation is a worldwide Manufacturer of CNC Systems, Servo Motors & Drives, Feedback Systems, DRO Systems & Motion Control Systems and can be reached with any inquiries at the contact information below.
DMS was honored with the 2013 Regional Business Excellence in Manufacturing Award in November 2013, and recently awarded as a 2014 Colorado Companies to Watch Winner.
Learn more about DMS at DMSCNCRouters.com.
ABOUT DIVERSIFIED MACHINE SYSTEMS
Diversified Machine Systems (DMS) is a leading designer and manufacturer of 3 & 5 Axis CNC routers & custom machining centers, with headquarters in Colorado Springs, CO. With more than 30 years of innovation and industry experience as an Original Equipment Manufacturer, DMS line of CNC routers and machining centers are routinely used on materials such as wood, composites, aluminum, steel, plastics, and foams. Renowned for quality and precision, our advanced machining centers are engineered to increase efficiency and productivity, while maintaining the quality and precision our clients have come to expect from DMS.
Featured Product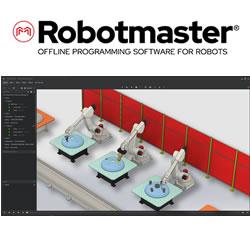 Since Robotmaster V7 uses integrated CAD/CAM functionality, for the first time, the power of Robotmaster can be used by welding, cutting and other process experts without buying or learning complex CAD/CAM software. As in past versions, Robotmaster V7 imports paths, but now makes it even easier for end users to leverage any CAD/CAM tool choice. It is an intuitive tool that anyone could use, with or without robotics expertise. It bridges the gap between robots and manufacturing by providing easy programming solutions for part manufacturing.