September 8-13 at McCormick Place, Chicago IL.
Berkeley, CA -- 08/14/2014 -- System Insights, a leading global supplier of manufacturing software, will be exhibiting at the International Manufacturing Technology Show (IMTS) 2014 in 26 days. IMTS is the premier manufacturing technology show in North America. System Insights will be at Booth: E-4736 Pavilion: IANA from September 8-13 at McCormick Place, Chicago IL.

VIMANA Connect by System Insights is a suite of hardware modules, software applications, and services to support MTConnect compatibility with legacy devices and sensors. VIMANA Connect is a key enabling technology for System Insights VIMANA predictive analytics platform; providing compatibility for legacy equipment that is not capable of native MTConnect support. The VIMANA Connect suite includes MTConnect configuration services using the most accurate interpretation by the authors of the standard. Each VIMANA Connect product comprises of hardware, configure services, and data analytics software.
Manufacturing industry professionals from all over the world attend IMTS to see more than 15,000 new machine tools, controls, computers, software, components, systems, and processes that can improve business efficiency.
Leaders will gain valuable ideas and insights from over 1,100 of the worlds leading equipment producers.
Nearly 2,000 exhibiting companies will occupy 1,240,863 net square feet of exhibit space at the McCormick Place complex in Chicago, Illinois. IMTS is held every even-numbered year in Chicago and attracts more than 100,000 buyers and sellers from over 112 countries.
The IMTS Conference brings the industry together, under one roof and at one time, to discuss new opportunities. Network with a community of your industry peers and explore fresh ideas to enhance your business. Leave with different perspectives on overcoming day-to-day and long-range challenges.
About System Insights
System Insights (http://www.systeminsights.com), based in Berkeley, California, with offices in Chennai, India, is a leading global supplier of manufacturing software in both machining based, discrete and process industries. VIMANA delivers predictive analytics solutions to improve clients efficiency, productivity, and profitability. VIMANA is the only software product that combines a comprehensive real-time data solution, based on the MTConnect data standard, with multi-dimensional, complex reasoning and machine learning technologies. VIMANA provides these data while enabling customers to realize sustainable manufacturing objectives. The VIMANA software platform delivers a unique combination of Cloud Computing and Big Data capabilities that sets out to revolutionize the economics of manufacturing. System Insights is a proud member of both AMT (Association for Manufacturing Technology) and NTMA (National Tooling and Machining Association). Follow System Insights on Twitter @systeminsights.
Featured Product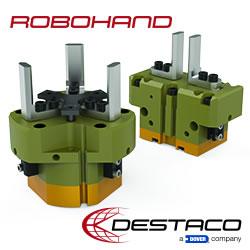 Automatically change end effector tooling quickly and easily with Destaco's Automatic Tool Changers. Designed with exceptional repeatability, high rigidity and load capacity, they are perfect for multiple tooling applications utilizing one robot. We offer different models and sizes to handle light-duty to heavy-duty applications. Our RQC/RTP Series provides a high level of flexibility with a configurable, modular design that accommodates up to four optional modular interfaces.