Inside 3D Printing Conference and Expo, taking place in Santa Clara on October 21-23, 2014
NEW YORK, Aug. 14, 2014 -- MecklerMedia (OTCQX: MBIS) announced that the agenda for Inside 3D Printing Conference and Expo, taking place in Santa Clara on October 21-23, 2014, will feature 13 vertical tracks, ranging in topic from manufacturing to medical. This will be the largest Inside 3D Printing conference to date with 57 total conference sessions.

The conference sessions will cover a wide range of 3D subjects including tracks focusing on aerospace, architecture, art, business and investment, education, fashion, food, law and intellectual property, medical, maker, manufacturing, software, and technical aspects of 3D printing. Keynote addresses have been confirmed by Chris Anderson, CEO of 3D Robotics and Founder of DIY Drones and Keith Murphy, Chairman and CEO of Organovo Inc., who will discuss the latest developments in 3D bioprinting.
Terry Wohlers, Founder, Principal Consultant, and President of Wohlers Associates Inc., will also host a consulting dinner on October 21. Dinner guests will have the chance to ask Terry Wohlers questions, discuss business opportunities, and speak in depth about predictions for the 3D printing and additive manufacturing industry. Space for the dinner is limited to 40 individuals.
Exhibitors for the event include Silver Sponsors EnvisionTEC, GoEngineer, Mcor Technologies Ltd., and Solid Concepts, as well as 3D Printing Industry, Airwolf 3D, Artec Group, citim AM, Inc., Shenzhen Esun Industrial Co., Ltd., ExtrusionBot, Fargo 3D Printing, FATHOM, FineLine, FlashForge USA, FSL3D, Leopoly, MXD 3D, netfabb, Precision 3D Filament, Sculpteo, Skuit 3D, SpaceClaim, SprintRay, Tethon 3D, Zmorph, Stratasys, and MBot 3D.
If your company is interested in sponsoring or exhibiting, contact us at 3dprinting.sponsors@mecklermedia.com.
Conference prices will increase on site, so attendees are encouraged to take advantage of early bird prices and register before September 17. For complete information on Inside 3D Printing Conference and Expo, visit http://www.inside3dprinting.com/.
About MecklerMedia
MecklerMedia (OTCQX: MBIS) is the producer of conferences including Inside 3D Printing, Inside Bitcoins, and AllFacebook Marketing Conference. MecklerMedia produces over 25 conferences annually. The MecklerMedia news sites and newsletters, including Inside Bitcoins News, 3D Printing Industry, and Allfacebook.de provide up-to-date coverage on emerging industries to help drive business forward.
Featured Product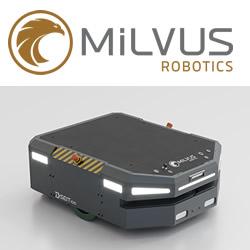 Enhance your material transport capabilities - even in the busiest warehouse or production environments - with SEIT robots. Made by Milvus Robotics, these reliable and safe AMRs efficiently move materials with no human intervention required. They work seamlessly alongside people, forklifts, and other equipment. Requiring no infrastructure, SEIT robots are suitable for a range of manufacturing environments, distribution centers and more.