All Elements in Place to Efficiently Meet Growing Demand for Vigilant Security Robots
DENVER, Aug. 15, 2014-- Gamma 2 Robotics ("G2R") (www.gamma2robotics.com), developers of the world's first commercially available security robot, announced today that it has signed a robot assembly agreement with Vergent Products (www.vergentproducts.com), thus completing G2R's supply chain and enabling maximum scalability over time.

The agreement with Loveland, CO-based Vergent keeps key manufacturing functions in-state, and is consistent with G2R's commitment to a Made in America and Made in Colorado product. Vergent joins other US and Colorado-based partners like Phoenix Metals, Dubach Tool, DBM Technologies and Supreme Cable Technologies. G2R now employs a manufacturing process that is 100% domestic and can efficiently produce American-made security robots for our customers.
"This agreement is an important milestone in our development, as we are now fully equipped and prepared to meet the growing demand for our advanced mobile security robots," stated G2R President and Co-Founder Jim Gunderson. "Specific to Vergent, they bring to us 6-Sigma ISO 9001 capabilities, ensuring that the security industry receives the highest quality robots possible. The G2R Vigilant Security Robot remains the only commercially available security robot. We have now extended our lead with the only comprehensive, scalable and wholly American manufacturing platform in the marketplace."
About Gamma 2 Robotics, Inc. (www.gamma2robotics.com)
Based in Denver, Gamma 2 Robotics ("G2R") produces intelligent and autonomous robots. After more than 5 years of development, it has engineered a revolution in commercial security - the "Cybernetic Brain", artificial intelligence that enables autonomous robots to operate independently and without manual supervision or remote control. G2R robots can detect and can immediately report on intruders, fire, smoke, water, suspicious new objects and more. It is the only such product commercially available.
Featured Product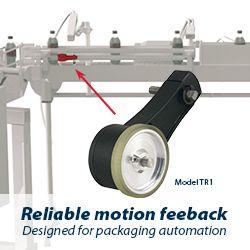 EPC is excited to announce our NEW online 3D Configurator. This new tool makes it even easier to configure EPC's products exactly how you need them for your application. The 3D Configurator interface is intuitive and works in any web browser for both desktop and mobile. It'll only take you a moment to learn your way around the program. Careful, though: it's so fun to play with, you may spend a whole afternoon on it!