Three Winning Designs 3D Printed on MakerBot Replicator 3D Printers Showcase Possible Human Homes on Mars
NEW YORK--MakerBot and NASAs Jet Propulsion Laboratory want to bring 3D printing to the Red Planet! While Mars is not yet home to humans, 3D printing using materials on Mars or resources brought from Earth would likely help future Mars explorers survive. MakerBot and JPL teamed up to challenge the 3D printing and design community to come up with designs for a Thingiverse Mars Base that could theoretically support human life on the Red Planet. 228 original designs were uploaded to Thingiverse.com, MakerBots 3D design community for discovering, printing and sharing 3D models. The enthusiasm behind these contributions was out of this world, as detailed and scientific descriptions often accompanied the innovative designs. All of the submitted designs were 3D printed on a MakerBot® Replicator® 3D Printer and then reviewed by scientific and engineering staff at JPL, who used their expert knowledge and experience to help select the final three winners.

Winning Mars Base Challenge Entries
First place prize goes to Thingiverse user Noah Hornbergers Queen B (Bioshielding) 2 Bedroom 2 Bath Mars Apartment. Noahs solution approaches the harsh Mars climate without sacrificing the comforts of home, with a structure designed to protect its inhabitants from frigid temperatures and cosmic radiation. Noah chose to use the tessellating hexagon shape as a form factor, due to its compactness and modular potential. His description of the design includes radiation shielding, an underground heated water insulator, and an air purification system. Noah states, "This is quite a multifaceted challenge. I have tried to think through the theory of my design as much as possible and prove it with a printed model. I designed something that I would feel happy living in for a few years (at least)."
Second place is awarded to Thingiverse user Valcrows Martian Pyramid. This pyramid design focuses on multi-functional systems that ensure limited resources are reused as much as possible, with energy produced from a mirror-based solar collector. Valcrow describes his Martian Pyramid as taking inspiration from the pyramids on Earth, some of the most iconic, longest standing structures. Valcrow notes the pyramids stable triangular geometry has proven its durability through the ages in ancient buildings around the world and demonstrated its weather resistance in tent and teepee designs. This model is intended to be an architectural cutout view, where the generator room and water storage areas are clear to the viewer.
Third place is awarded to Thingiverse user Chris Starr (Cstarrman) for his Mars Acropolis, which incorporates ancient Greek architectural elements with modern research facility features. This futuristic structure draws energy from solar panels, includes three massive greenhouses, and is designed to ensure that limited resources are not wasted. Chris created his solution by taking cues from the ancient Greek Acropolis of Athens. The Mars Acropolis is a three-tiered structure. Its outer wall serves as a protective barrier. Its foundation is built atop a mixture of soil from Earth and Mars. The habitat serves as a mass research facility to explore and develop means for additional colonization of the planet.
"We really loved seeing how the designs in the Mars Base Challenge were often inspired by structures here on Earth that have withstood the passage of time and harsh weather elements," noted Bre Pettis, CEO of MakerBot. "It was challenging to select just three winners from the 228 entries. We were happy to have the experts from JPL on board to help with the judging process, as they took this challenge very seriously. Overall, this was a very inspiring challenge."
JPL, in coordination with its Imagine Mars Project and IT Chief Technology and Innovation Office, evaluated the designs based on research done by participants about what it would take humans to survive in the extreme environment on Mars, general feasibility, and design thinking. MakerBot took those inputs into consideration, while testing printability, replicability, and other 3D design aspects to select the final winners.
The first place winner of the MakerBot and NASA/JPL Thingiverse Mars Base Challenge will receive a MakerBot Replicator Desktop 3D Printer. Second and third place winners will be awarded spools of MakerBot PLA Filament. All of the Mars Base Challenge designs can be viewed, downloaded and 3D printed from Thingiverse.com, the worlds largest 3D printing community with more than 300,000 digital designs available.
About MakerBot
MakerBot, a subsidiary of Stratasys Ltd. (Nasdaq:SSYS), is leading the Next Industrial Revolution by setting the standards in reliable and affordable desktop 3D printing. Founded in 2009, MakerBot sells desktop 3D printers to innovative and industry-leading customers worldwide, including engineers, architects, designers, educators and consumers. To learn more about MakerBot, visit makerbot.com.
About NASA/JPL
The Jet Propulsion Laboratory, a division of the California Institute of Technology, Pasadena, Calif., manages NASAs Mars Exploration Program (MEP) on behalf of NASAs Science Mission Directorate. MEPs Science Goal 4 is preparation for human exploration. JPL is exploring 3D printing for use in Mars and other space missions, as well as for inspiring creativity, design thinking, and STEM literacy. Follow the #JourneytoMars at mars.nasa.gov or ImagineMars.jpl.nasa.gov.
Featured Product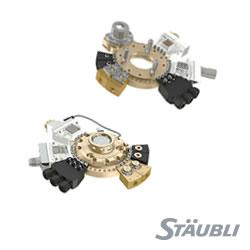 TX2 robots: redefining performance by offering collaborative safety and high performance in a single machine. These pioneering robots can be used in all areas, including sensitive and restrictive environments, thanks to their unique features. Safety functions are easy and inexpensive to implement. They allow a higher level of interactions between robots and human operators, while still guaranteeing protection of your people, production and investment.