BENZ Inc. will be presenting new products at this years AMB and IMTS tradeshows. Products on display will include the BENZ LinA push-type aggregate and the BENZ Solidfix quick change system.
Charlotte-Gastonia-Rock Hill, NC-SC - BENZ Incorporated has announced that it will be presenting new tooling systems during AMB 2014, Hall H1, Stand Number IF59, in Stuttgart, Germany and IMTS Booth #2445, September 8-13, 2014, at McCormick Place in Chicago, IL. The company will be introducing its LinTec series of broaching tools, and Solidfix® Quick-Change system. BENZ tooling systems are engineered in Germany and sold and serviced in the US and Canada from its BENZ Inc. headquarters in Charlotte, NC.

BENZ LinTec push-type technology: Driven push-type unit for machining centers
Previously, conventional push-slotting of forms on machining centers was only possible by moving the rotational axis. All machining processes had to be programmed via the machine control in advance. Now, BENZ has transferred the success of the driven push-type unit BENZ LinA for CNC lathes to the newly developed unit for machining centers. The gearing of the push-type unit converts the rotational movement of the drive into a linear movement of the chisel. With the new LinA, operators are able to create geometric forms up to a length of 35mm on machining centers with the axial push-type unit. The product range for CNC lathes has also been expanded in keeping with the demands of the market. The new BENZ LinA long stroke allows the push slotting of deeper forms compared to the standard version LinA. This is made possible by a longer working stroke of 51mm compared to the standard version's 32mm.
15 second quick tool change with Benz Solidfix®
Driven live tools with Benz Solidfix® interface for swiss tooling. Swiss tooling applications are usually characterized by very small parts, which are produced in high quantities in multi-shift operation. Down time costs money, so manufacturers are looking for the quickest and easiest way to make tool changes. BENZ has developed tools with the modular quick-change system Benz Solidfix®in size 1. With the integrated modular quick-change system Benz Solidfix®only the adapter has to be changed while the tool holder stays on the turret. Tools can be preset outside the machine, saving the user additional time. Quick tool changes are even possible with very little room in the machine at the tool holder. Factors such as tool diversity, set-up time and precision are important in production and the Benz Solidfix®modular quick-change system addresses each need.
About BENZ Tooling and BENZ Inc.
More than 30 years of experience in developing and producing CNC machine tool accessories make BENZ GmbH Werkzeugsysteme one of the leading system partners in the Metalworking, Woodworking and Composites Industry. The sophisticated product portfolio reflects high quality and innovative precision engineering. It includes static and live tools, exchangeable units, such as angle heads, multi spindle heads, modular quick-change systems and large drilling heads, as well as 2-axis CNC-NC heads. A combination of modern management and advanced, innovative engineering has transformed this traditional tooling company with over 250 employees into an innovative, growing enterprise.
BENZ Tooling offers sales and support for the United States and Canada through its subsidiary, BENZ Inc., from its Charlotte, NC headquarters. For more information visit http://www.benz-inc.com or call 704-529-5300. Visit BENZ Inc. at IMTS 2014 Booth W-2445 or BENZ GmbH at AMB 2014, Hall H1, Stand Number IF59.
Featured Product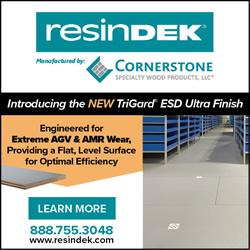 To maximize the productivity of an autonomous mobile robot (AMR) or automatic guided vehicle (AGV) deployment, it's critical to create the optimal environment that allows the vehicles to perform at their peak. For that reason, Cornerstone Specialty Wood Products, LLC® (www.resindek.com) created the TriGard® ESD Ultra finish for its ResinDek® engineered flooring panels. The TriGard ESD Ultra finish is ideal for high-traffic robotic applications characterized by highly repetitive movement patterns and defined travel paths.