Brush Research Manufacturing (BRM), global supplier of flexible hones and nylon abrasive brushes, announces on-line resources that explain how to automate surface finishing and deburring. Technical article and videos explain how Flex-Hone® and NamPower technologies help manufacturers save time and money through automation while improving part quality and consistency.
Los Angeles, CA August 20, 2014

Brush Research Manufacturing (BRM), American-owned supplier of surface finishing solutions, is announcing a new technical article and product videos about Flex-Hone® tools and NamPower nylon abrasive brushes. By using BRM brushing technologies to automate operations, manufacturers can save time and money through improved quality, reliability, and repeatability.
Founded in 1958, BRM supplies a full line of industrial brushes and flexible honing tools through a global network of distributors. For inner diameter (ID) applications, the Flex-Hone® tool is the industry standard. For outer diameter (OD) burr removal and surface finish improvement, BRM solutions include NamPower technology, a family of high-performance nylon abrasive brushes.
Flex-Hone® Tools for ID Applications
As BRMs new technical article explains, Flex-Hone® tools impart a substantially flat or plateau finish with a uniform pattern of oil-retaining grooves for optimum lubrication. They also remove cut, torn, and folded metal that can affect dimensional tolerances, cause part misalignments, and limit the overall efficiency of machined components. Ball hones can even blend-in radius ports and deburr cross-drilled holes.
The Flex-Hone® In-Machine Setup for Surface Finishing and Deburring video shows BRMs flexible honing tools in action. Use flexible cylinder hones with drill presses, milling machines, lathes, CNC equipment, robotic arms, and machine centers. Ball hones are secured in a chuck, collet, or similar holding device. With CNC equipment and machining centers, use a Jacobs style chuck or CAT 40 collet.
NamPower Technology for OD Applications
As BRMs technical article also explains, NamPower technology includes abrasive disc brushes, abrasive hex-drive tools, composite hub wheel brushes, and accessories such as lightweight tool holders that provide flow-through cooling. Like Flex-Hone® tools, NamPower nylon abrasive brushes can be used with automated machinery, CNC machining centers, transfer lines, and robotic cells.
NamPower brushes feature flexible, abrasive nylon filaments that enable manufactures to deburr, edge radius, and surface finish the outer diameter (OD) of parts. Additional applications include cleaning and surface preparation. The How to Automate Deburring and Surface Finishing - NamPower Abrasive Disc Brushes video shows NamPower technology in action.
Visit BRM at IMTS 2014 (Booth N-7163)
Do your tradeshow plans include a visit to the International Manufacturing Technology Show (IMTS) next month? From September 8 to 13, BRM will be in Booth N-7163 at McCormick Place in Chicago. Meet with our technical specialists at IMTS 2014 and find solutions to your surface finishing challenges. For more information, contact us.
About Brush Research Manufacturing
Brush Research Manufacturing (BRM), makers of flexible honing tools and a full line of industrial brushes, is located in Los Angeles, California. For over 55 years, BRM has been solving surface finishing challenges with brushing technology. BRMs Flex-Hone® tool is the industry standard against which all other ID surface finishing solutions are compared. Visit the BRM website to learn more.
Featured Product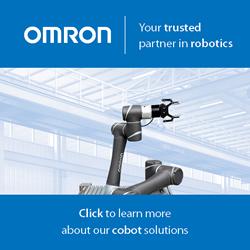 Humans and robots can now share tasks - and this new partnership is on the verge of revolutionizing the production line. Today's drivers like data-driven services, decreasing product lifetimes and the need for product differentiation are putting flexibility paramount, and no technology is better suited to meet these needs than the Omron TM Series Collaborative Robot. With force feedback, collision detection technology and an intuitive, hand-guided teaching mechanism, the TM Series cobot is designed to work in immediate proximity to a human worker and is easier than ever to train on new tasks.