Team of young entrepreneurs launch an Indiegogo campaign to fund their futuristic technology that allows users to control technology simply by moving their hands
Intugine, a company named as one of the top 15 startups at TechCrunch Beijing 2014, is excited to introduce its newest product. Nimble is a gesture control software and hardware that fits comfortably on the wearers fingertip. The company will launch a campaign on the popular crowdfunding website, Indiegogo, in late August. The campaign hopes to raise $100,000 for the further development and mass production of Nimble.

This gesture control technology turns a 15-foot area in front of any screen into a highly interactive control area. Nimble can be used to enhance any computer interaction, from gaming to simply presenting slideshows. Intugines new platform presents endless possibilities for application developers in the fields of 3-D modeling, home automation, gaming and shooting simulation.
The Intugine team has already worked to integrate Nimble with several applications. Fruit Ninja, YouTube, Angry Birds, and Netflix are just a few of the many applications with which the team has integrated Nimble. The product is also great for virtual reality headsets because it can track the positioning of multiple fingers accurately with an ultra-low latency.
After two years of research, development, and testing, Intugine is proud to present Nimble. This gesture control system will be sold in a package that contains two rings, a USB sensor and software that provides complete gesture control. Backers can also buy extra Nimble rings for multiplayer experiences.
"We are all very passionate about the future of motion and gesture control technology," said Abhishek Sharma, the co-founder of Intugine. "We are confident Nimble will completely change the way people view gesture control. From first-person shooter gaming, business presentations and academia, to something as simple as
changing the song or dimming the lights, Nimble will revolutionize how people interact with technology."
Nimble has several features that set it apart from other gesture control products. The most notable is its affordable price. At just $99 a unit, Nimble is much more accessible than competitors. However, price isnt everything. Nimble also offers unique and superior features and technology. Sub-millimeter accuracy paired
with incredibly low latency makes Nimble the ideal gesture control software and the hardware expansions allow for up to eight users, which is more than any competitor.
Making Nimble a part of every home will soon be an option when its crowdfunding campaign launches on Indiegogo in late August. To learn more about Nimble and Intugine, visit their website at: http://bit.ly/Intugine.
ABOUT INTUGINE
Intugine is made up of a team of young engineers, researchers and artists working hard to enhance peoples experiences with the digital world. Their research and development team is from IIT Kharagpur, one of the best education and research institutes of India. Their product, Nimble, is a result of two years of research on gesture
and motion sensing technology.
Featured Product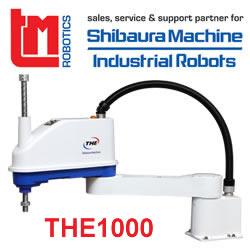 Designed for assembly and inspection applications in the electronics equipment and automobile components industries, the THE600 SCARA is a powerful automation tool. Advancing from the specifications of the existing THE400 SCARA, the THE600 has been developed to meet growing demand for fast-cycle automation. The THE600 model includes improvements in synchronised control and tracking precision. The THE600 is compact in design and offers improved high speed, with 60 per cent higher payload capacity than competing SCARA models in the same price range, making it the price-to-performance leader. Affordable price, impressive performance.