Winners will be announced at the Safety Leadership Conference Oct. 27 to 29 in Indianapolis
MILWAUKEE, Aug. 14, 2014 — Rockwell Automation is now accepting nominations for its second annual Manufacturing Safety Excellence Awards.

The awards celebrate the worlds safest manufacturing companies - those with a strong safety culture, well-executed compliance procedures, and effective use of current safeguarding and automation technology.
"The 2013 winners - General Motors, PepsiCo and Procter & Gamble - were selected because they make safety not only a priority, but a core value," said Mark Eitzman, safety market development manager at Rockwell Automation.
The awards also recognize manufacturers that take a comprehensive approach to safety by successfully integrating safety practices between the engineering and environmental health and safety (EHS) departments. This helps enable the kind of collaboration that goes beyond compliance to dramatically reducing injury rates while improving plant productivity.
The awards are open to manufacturers, machine builders (OEMs) or system integrators, as long as they demonstrate a true commitment to safety. Nominations are due Sept. 15, 2014, and winners will be announced at the Safety Leadership Conference on Oct. 27 to 29 in Indianapolis.
To nominate a company, complete the entry form and email it to swludwig@ra.rockwell.com with "Safety Excellence Award Nomination" in the subject line or mail it to the following address: Rockwell Automation, Attn: Steve Ludwig - Safety Excellence Award, 1 Allen Bradley Drive, Mayfield Heights, OH 44124.
News Release Assets
Image available upon request or at box.net.
About Rockwell Automation
Rockwell Automation Inc. (NYSE: ROK), the worlds largest company dedicated to industrial automation and information, makes its customers more productive and the world more sustainable. Headquartered in Milwaukee, Wis., Rockwell Automation employs about 22,000 people serving customers in more than 80 countries.
Featured Product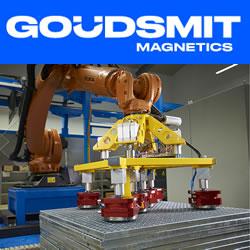 Magnetic robot end-of-arm tooling are suitable for the automated pick-up and positioning of steel or other ferromagnetic objects. They can be switched on and off and have a threaded mounting hole for robots. Magnetic grippers are an efficient alternative for traditional robot grippers. Application in automated production lines and for robots and pick-and-place systems. Magnetic product handling reduces the duration and number of operations. Goudsmit Magnetics is driven by magnetism since 1959. See how it works: https://youtu.be/hcXJ98mXHZE