Robotics Alley is an initiative to spur public-private partnerships in the business, research, and development of robotics and automation systems. Leaders in Agriculture will share their insights into the present and future of robotics and autonomous systems on September 16-17, 2014, at the Robotics Alley Conference & Expo.
Minneapolis, MN August 26, 2014

Global leaders in robotics research, design, business development, investment, law and policy will gather at the Minneapolis Marriott Northwest on September 16-17, 2014, to share their insights into the worldwide explosion of robotics and autonomous systems at the Fourth Annual Robotics Alley Conference & Expo.
In recognition of the wide variety of ways robotics and autonomous systems are transforming industries today, the 2014 Robotics Alley Conference & Expo created nine different tracks of content. Because the conference is hosted in the Midwest, one strong area of interest is agriculture. This year, the producers of the conference turned to Minnesota Secretary of State Mark Ritchie - former president of the Institute for Agriculture and Trade Policy - who agreed to chair the Agriculture & Natural Resources Track. The track is sponsored by the Agriculture & Energy Center of Excellence - North.
Below is a sampling of the content for the Agriculture & Natural Resources Track. There will be five breakout sessions discussing agriculture and robotics. In addition, new to this years conference are virtual business tours taking place on September 18.
To read more about all nine tracks, visit http://www.roboticsalley.org.
Livestock, Diary, and Poultry
Dairy, beef, swine, and poultry producers are a major market for existing and emerging technologies. This panel will focus on milking robots for dairy farmers, feed handling technology, and poultry producers who are seeing more robotics enter their field. Lowell Christensen, Founder and Vice President of Engineering at TruTech Specialty Motors, and Jim Salfer, Dairy Extension Educator of Stearns County, will be presenting on this topic.
Row Crops and Landscape Management
This panel will provide an overview of the field of precision agriculture and how it is driving a number of companies toward rapid innovations. This panel of speakers includes the following: Kent Cavender-Bares, CEO, Rowbot Systems; Larry Johnson, Owner, LLJ Consulting & Business Development; and David Mulla, Professor, Co-Director of Graduate Studies, Department of Soil, Water and Climate, University of Minnesota.
Unmanned Vehicles and Aircraft
This panel will look at how innovation in unmanned vehicles and aircraft has impacted food, agriculture, forestry, and natural resource conservation. We will explore existing technologies and look forward to products in development that will allow for more efficient production and better understanding of land resources and capabilities. Panelists for this topic include, Gary Balas, Professor Aerospace Engineering & Mechanics and Control Science & Dynamical Systems Center, University of Minnesota; Harlan T. Jacobs, President and Founder, Genesis Business Centers; Jerry Johnson, CEO and Founder, Superior Edge, Farm Intelligence2, FourthWing Sensors; and Patrick Weldon, Project Manager, Polaris Industries Inc.
Robotics in Food Processing and Distribution
Erik Allen, Senior Research Engineer in the Engineering R&D Group at Cargill, will discuss the many points of entry from the field to the table for emerging robotic solutions.
Featured Product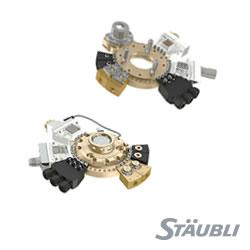 TX2 robots: redefining performance by offering collaborative safety and high performance in a single machine. These pioneering robots can be used in all areas, including sensitive and restrictive environments, thanks to their unique features. Safety functions are easy and inexpensive to implement. They allow a higher level of interactions between robots and human operators, while still guaranteeing protection of your people, production and investment.