Website Development & Marketing Firm AIMG announces the launch of a robust responsive, branded, and fully customized content management system website it developed and designed for Kawasaki Robotics, a leading global supplier of industrial robots and robotic automation systems.
Lake Success, New York August 28, 2014

With more than 110,000 robots installed worldwide, Kawasaki Robotics is a leading supplier of industrial robots and robotic automation systems. A subsidiary company of Kawasaki Heavy Industries, Ltd., Robot Division of Japan, Kawasaki Robotics is building on their market strength within the United States. To help them fulfill their business objectives, Kawasaki Robotics is working with marketing firm AIMG, who recently developed and launched a new, robust website application for the robotics giant.
"Kawasaki Robotics has an extensive and diverse product and application portfolio that is relevant to a wide range of industries," said Joe DeMicco, Founder & CEO of AIMG. "Our first order of business was to understand the competitive landscape and the specific audiences the website would be serving. Working closely with Kawasakis marketing manager, the objective was to organize and focus all website content on what matters most to the target OEMs, integrators and end-users who would be visiting the site. To borrow from Kawasaki Roboticss own marketing message, we developed a site that is "simple and friendly" for site visitors and site administrators to use, but also a powerful business tool for attracting, converting and serving their diverse buyer groups."
Responding to a trend in mobile computing, and the use of smartphones in particular, responsive web design was used to enable access to the site from a variety of computing devices of varying screen sizes. "Responsive web provides Kawasaki Robotics with a new foundation with respect to their online presence," said DeMicco. "The goal was to achieve a balance between what the client wanted, the needs of the various end users, and the strategic positioning of content. To ensure maximum interaction on virtually any computing device, we matched the right content to a users intent as well as the device being used to access it."
Included in AIMGs web development process are strategies for promoting the website through search engines and other online venues. The launch of the new Kawasaki Robotics website represents the completion of phase one of the project.
To experience the Kawasaki Robotics website developed and designed by AIMG, visit http://www.kawasakirobotics.com.
To learn more about the web development and marketing services for online and offline offered by AIMG, visit http://www.aimg.com or call (888) 291-0037.
About AIMG
Established in 1994 as Accurate Imaging, Inc., AIMG is a HubSpot certified integrated marketing and web development firm specializing in Internet Marketing, Web Development, Search Engine Optimization (SEO) and Small Business Development solutions, with offices in New York and New Jersey. Visit http://www.aimg.com or call toll free 1-888-291-0037. Watch AIMGs Small Business Solutions video to learn more about how AIMG brings business to Business.
About Joe DeMicco
Joe DeMicco (http://www.linkedin.com/in/joedemicco) is the founder and CEO of AIMG. He has been a web and marketing consultant for 20 years. He started his flagship company Accurate Imaging in 1994, which he re-branded as AIMG in 2009. An alumnus of the Goldman Sachs 10,000 Small Businesses program, Joe continues to present online marketing webinars to past and current participants of the program. Joe is a recognized small business specialist and offers business development tips on his blog http://www.DeMicco.com.
Featured Product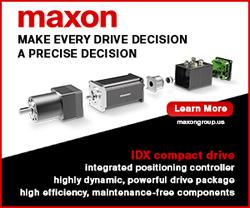 A brushless DC motor solution for use in hip and knee exoskeletons. This complete joint actuation unit consists of motor, gearhead, encoder and position controller. Fitting absolute encoder directly at the joint rotation provides designers increased positioning accuracy. The unit will deliver 54Nm of continuous torque and 120Nm on a 20% duty cycle. The system can be operated on supplies between 10 and 50V DC and the actuation speed is up to 22rpm.