Silicon Valleys first official technology conference, is welcoming start up teams to apply for free demo kiosks in its Startlandia exhibit space at the San Jose Convention Center Oct. 1-2.
SAN JOSE, Calif.----Techmanity 2014, Silicon Valleys first official technology conference, is welcoming start up teams to apply for free demo kiosks in its Startlandia exhibit space at the San Jose Convention Center Oct. 1-2. Sponsored by Silicon Valley Bank, Startlandia will feature intrepid and imaginative startups pushing the envelope in diverse areas such as robotics, 3D printing, crowd financing, healthcare, agricultural science and more. Team applications must be filed before Sept. 12, 2014, to qualify for consideration.

With a focus on new technologies, services and business models that serve humanity and disrupt the status quo in their respective markets, Startlandia aims to give much-coveted visibility to dozens of early stage companies looking for funding, talent or advisers from the Silicon Valley movers and shakers attending the Techmanity conference.
"One of the best ways early stage startups can tell their unique stories is through live demonstrations before the best and the brightest in the industry," said Larry Weber, author, innovator and founder of advanced marketing services agency Racepoint Global. "Startlandia provides a dynamic platform for these companies to demonstrate the true impact of their products and services on society."
Techmanity, sponsored by Adobe, Cisco, PayPal, Samsung and Voom among others, zeroes in on innovators working at the intersection of technology and humanity - including human-centered design and people-driven engineering - and producing new products and services with the potential to change the world and improve life on earth. The Startlandia exhibit area will feature the best of a new breed of startups that integrate high-growth market potential with positive social impact. For the selected teams, Startlandia represents a powerful opportunity to make their case before many of Silicon Valleys most thoughtful leaders.
"Startlandia is not your dads launch event," said Techmanity founder Tom Hayes. "Techmanity is at the vanguard of a new design and innovation movement and Startlandia offers a first look at the next generation. If you want to see the future of Silicon Valley, come to Techmanity and experience Startlandia."
Participation in Startlandia is free for selected applicants. Chosen startups will be provided a turnkey, branded exhibit module. Applications for Startlandia are being juried by Hayes, Marina Lee, founder of the Women in Tech Network and Startups Edge, and Paul Kent, general manager of Macworld and iWorld.
Startups can submit their applications to participate in the Startlandia exhibit area at Techmanity at http://www.techmanity.com/startlandia/. The application process is open through Sept. 12, but startups are encouraged to apply immediately as applications are being evaluated as they are submitted and space is limited.
To register for Techmanity 2014, please visit www.techmanity.com/tickets. Media registration can be found here: www.techmanity.com/media. Additional information on Startlandia can be found here: www.techmanity.com/startlandia
Tweet this: .@Techmanity is looking for #SiliconValleys most dangerous and disruptive new #startups for #Startlandia http://bit.ly/1ymnNKD
Follow Techmanity 2014 on Twitter
Follow Techmanity on LinkedIn
Like Techmanity 2014 on Facebook
About Techmanity
Techmanity is Silicon Valleys first annual technology and lifestyle event celebrating the companies and people whose products and services are revolutionizing our world.
For two days in October 2014, Techmanity will command center stage on the tech world with mind-blowing demos and presentations from the brightest people in the industry, dozens of exciting networking events hosted by leading Silicon Valley companies and an incredible line-up of special programs showcasing the best new apps, business models and startup ideas on the planet.
Featured Product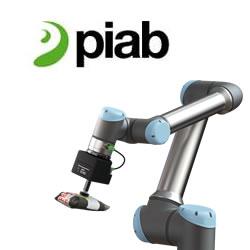 Piab's Kenos KCS gripper enables a collaborative robot to handle just about anything at any time. Combining Piab's proprietary air-driven COAX vacuum technology with an easily replaceable technical foam that molds itself around any surface or shape, the gripper can be used to safely grip, lift and handle any object. Standard interface (ISO) adapters enable the whole unit to be attached to any cobot type on the market with a body made in a lightweight 3D printed material. Approved by Universal Robots as a UR+ end effector.