635 nm Laser Diode at 500 mW
LASER COMPONENTS introduces Arima's new 635 nm laser diode with 500 mW

different TO housings. Two are available ADL-63V0BTP and ADL-63V0ANP.
Both of these laser diodes achieve an efficiency of 1 mW/mA and have a hermetic
housing. The thermal conductivity is now equivalent to that of a C-mount housing. The
diode is, therefore, not only available in a 9 mm but a 5.6 mm TO housing as well.
These diodes were created for biochemical and medical applications such as, for example, photodynamic therapy. They are optimally suited for illumination applications; they are also suited for use in laser displays because the emitter size is only 50 μm.
More Information http://www.lasercomponents.com/de-en/news/635-nm-laser-diode-at-500-mw/
Trade Shows Photon 2014, Sept. 01-04, 2014, Imperial College London, UK, Booth 19
Strategies in Biophotonics, Sept. 09-11,2014, Boston Park Plaza Hotel, Boston, USA, Booth 500
enova, Sept.16-18, 2014, Paris expo Porte des Versailles, Booth C11
Photonex 2014, Oct. 15-16, 2014, Ricoh Arena, Conventry, UK, Booth D20
Vision 2014, Nov. 04-06, 2014, Messe Stuttgart, Germany, Booth 1F14
electronica 2014, Nov. 11-14 2014, Messe München, Germany, Booth B1-306
The Company LASER COMPONENTS specializes in the development, manufacture, and sale of components and services in the laser and optoelectronics industry. At LASER COMPONENTS, we have been serving customers since 1982 with sales branches in four different countries. We have been producing in house since 1986 with production facilities in Germany, Canada, and the USA.
In-house production makes up approximately half of our sales revenue. A family-run business, we have more than 170 employees worldwide.
Featured Product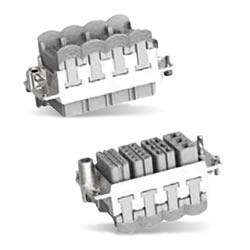 TE Connectivity's HDC Dynamic Module integrates the Dynamic series flexible signal and power solutions and the HDC Heavy Duty Connector series to form a solution of harsh environment connectors. TE's HDC Dynamic Module offers the top features of the two series. It uses the contact concept of the Dynamic series, with its proven performance in industrial uses and its cost effectiveness compared to legacy cutting contacts. The HDC connectors make the module a reliable solution for harsh environments. TE's HDC Dynamic Module supports 2A/32V to 40A/300V performance and 3 positions to 48 positions.