Includes extensive memory arrays, BIOS Flash redundancy and multiple I/O configurations
Chatsworth, Calif. September 2014 - Aitech Defense Systems Inc., a pioneer in true embedded and mission critical computing technologies for environmentally-demanding, mission-critical applications, now offers the C163, a rugged 6U VME SBC based on the 4th generation Intel Core i7 (Haswell) processor family.

Based on the latest Intel, 4th generation Core i5 or Core i7 Haswell multicore processors, the ruggedized board reliably operates over wide temperature ranges in embedded and harsh environments, including defense, aerospace and rugged industrial applications.
With up to 16 GB of fast DDR3L SDRAM and 128 GB of SATA II Flash disk, the C163 is ideal for applications that require extensive memory resources. Environments requiring reliable operation benefits from the boards dual redundant BIOS Flash that ensures the boot process will redirect to the alternate device should the board fail to boot from the primary device.
By integrating the low power, dual core (Core i5) or quad core (Core i7) Intel CPU with large memory arrays, the new SBC easily handles intense data requirements typical in modern video and graphics processing applications. Intels embedded HD graphics 4600 GPU, implemented on the processor, provides 20 execution units and is capable of 2D/3D graphics processing eliminating the need for separate GPU-based mezzanine boards.
An included PCH-QM87 Lynx point platform controller hub integrates the platform I/O interfaces and supports both high-speed and legacy resources. This added design flexibility provides more efficient processing across the board. Two industry-standard PMC/XMC slots further enhance the boards capabilities.
Facilitating its high-speed operation and exceptional throughput, the board implements a Tundra-to-VMEbus bridge located on the PCI bus that incorporates two large FIFOs for optimal operation of the PCI and VME buses. The VME interface supports full master/slave capabilities and legacy VME protocols as well as A64/A32/A24/A16 addressing modes. Two included DMA engines support the high data rate transfers.
The C163 is available in four basic I/O configurations: a standard on-board I/O version, arrangements that accommodate the boards PMC or XMC expansion slots and a C160-compatible (previous generation) configuration. The new SBC can also be customized to meet specific user requirements.
Various I/O resources include four GbE ports, seven USB 2.0 ports, two SATA II ports and four RS232/422/485 serial ports as well as 12 discrete I/O lines, two CANbus ports, one HDMI/DVI display port and a high definition audio port.
Technical Specifications:
*4th generation Intel Core i7 (Haswell) quad core processor operating at 2.4 GHz
*Extensive memory: up to 16 GB dual-channel DDR3L with ECC; 128 GB SATA Flash; dual redundant 16 MB Flash BIOS
*Advanced VME protocols with legacy VME support
*Multiple I/O interfaces: four GbE; seven USB 2.0; two SATA II; 12 discrete I/O; HD audio; two HDMI/DVI display outputs
*Rugged construction is shock and vibration resistant
*Four standard I/O configurations, with customization available to meet user needs
For more information please call 888-Aitech-8 (888-248-3248), visit http://www.rugged.com/c163-4th-generation-intel-core-i7-6u-vme-sbc or e-mail sales@rugged.com.
Featured Product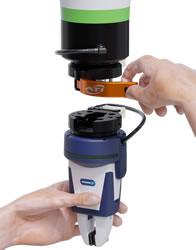 Simpler, stronger, and more precise. ATI Industrial Automation has developed a series of Manual Tool Changers that provides a cost-effective solution for quickly changing tools by hand. They feature a unique design that combines high strength, excellent repeatability, and a patent-pending screw-cam locking mechanism with multiple fail-safe features, which resists vibration and prevents loosening. These robust and compact Manual Tool Changers can handle payloads up to 80 pounds (36 kg) and pass pneumatics and electrical signals.