Brush Research Manufacturing (BRM), global supplier of Flex-Hone® tools and industrial brushes, announces plans to attend International Manufacturing Technology Show (IMTS) in Chicago, IL from September 8 to 13, 2014. At IMTS, visit BRM in Booth N-7163 to learn more about NamPower nylon abrasive brushes, deburring and surface finishing solutions described in new technical article and product video.
Los Angeles, CA September 04, 2014

Brush Research Manufacturing (BRM), American-owned supplier of flexible hones and nylon abrasive brushes, is announcing plans to attend the 2014 International Manufacturing Technology Show (IMTS) from September 8 to 13 at Chicago's McCormick Place. The industrial brush manufacturer is also announcing the release of a new technical article and IMTS video about BRM NamPower brushing tools.
IMTS 2014 is America's largest manufacturing technology tradeshow. With over 1 million sq. ft. of exhibit space and more than 1900 exhibitors, this year's event will feature over 15,000 products and processes. Held biennially, IMTS fills nine pavilions and includes conference sessions where part manufacturers, machine tool specialists, and industrial distributors can learn about new technologies.
Automated Deburring, Edge Radiusing, and Surface Finishing
As a new technical article from BRM explains, NamPower nylon abrasive brushes are ideal for deburring, edge radiusing, and surface finishing the outer diameter (OD) of parts. Additional applications include surface preparation and cleaning. With their high-quality components and balanced construction, NamPower brushing tools are easily integrated with automated machinery such as CNC equipment.
By automating operations, NamPower users are replacing time-consuming manual deburring while improving part quality. NamPower abrasive brushes conform closely to part contours and remove burrs consistently. Like BRM Flex-Hone® tools, they can be used with CNC machining centers, transfer lines, and robotic cells.
Burr Removal, Surface Finish Improvement, and Ease-of-Use
As BRM's latest NamPower video shows, the family of NamPower brush tools includes abrasive nylon disc brushes, abrasive hex-drive tools, composite hub wheels, and accessories such as lightweight tool holders with flow-through cooling. BRM also supplies composite hub wheel adaptors for improved brush support, longer tool life, and reduced brush vibration.
NamPower abrasive disc brushes come in two types: dot for light deburring and general-purpose use, and turbine for medium and heavy-duty deburing. NamPower abrasive hex-drive tools have a unique Hex-Drive System that allows these brushing tools to turn in both directions for full 360° finishing. NamPower composite hub wheel brushes feature indestructible cores and silicon carbide or diamond abrasive filaments.
Visit BRM at IMTS 2014 (Booth N-7163)
From September 8 to 13, 2014 BRM's technical specialists will be at IMTS 2014 to answer questions about NamPower nylon abrasive brushes, Flex-Hone® tools, and the California company's full line of industrial brush tools. As BRM's new technical article explains, visitors to Booth N-7163 can learn more about the surface finishing and deburring tools featured in BRM's latest NamPower video.
About Brush Research Manufacturing
Brush Research Manufacturing (BRM), makers of flexible honing tools and a full line of industrial brushes, is located in Los Angeles, California. For over 55 years, BRM has been solving surface finishing challenges with brushing technology. BRM's Flex-Hone® tool is the industry standard against which all other ID surface finishing solutions are compared.
Featured Product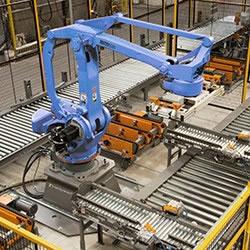 Honeywell Intelligrated has deep experience implementing robotic solutions that work seamlessly with existing automated equipment and is recognized by the Robotic Industries Association as a certified robot integrator. The company's extensive robotic integration capabilities include solution development, design engineering and project management, complete manufacturing capabilities, installation and commissioning, and lifecycle support services.