Newest version delivers significant productivity enhancements for CAD, NC programming & machining
GIVAT SHMUEL, Israel, September 4, 2014 --

Cimatron Limited (NASDAQ: CIMT) today announced that CimatronE 12, the latest version of its integrated, CAD/CAM software that combines design and NC programming solutions for mold makers, die makers and general high-end machining, will be showcased at IMTS, from September 8-13, 2014.
IMTS, the International Manufacturing Technology Show that is held in Chicago, is one of the largest industrial trade shows in the world. The Cimatron Group booth will feature live demos of the new versions of the company's industry-leading products: CimatronE 12 and GibbsCAM 2015.
"North American toolshops are recently experiencing an ever growing trend by which more jobs are coming back home instead of going overseas. This is a blessing on the one hand, but it also presents a much more serious challenge to deliver tools at more competitive costs" said Bill Gibbs, President North America of the Cimatron Group. "In addition, while delivery deadlines get shorter and shorter, it is not uncommon for shops to find themselves in situations where they are forced to slash delivery times after a project has already started. This presents serious challenges, particularly in managing workflow and remaining profitable. CimatronE's newest version addresses these challenges with significant improvements in design automation, process management, machine utilization and ease of use, and helps our customers achieve success."
On the CAM side, CimatronE 12 has raised the bar with programming efficiency, roughing productivity and finishing quality.
The new NC Setup tool lets users define materials, machines and part setup, offering better process management. The new Machine Preview shortens programming cycles by enabling optimization of multi-axis machine orientation before a toolpath is calculated. Another new capability enables users to visualize the remaining stock in color and on the fly, for better decision making at any point of the process.
Roughing productivity is dramatically enhanced in CimatronE 12, with a new, highly accurate 3D stock for 3+2 Axis positioning and 5 Axis, resulting in safe roughing and reduced machining time.
Additionally, better surface quality and longer tool life are obtained thanks to the more uniform toolpath, which provides smoother machine motion and reduced vibrations.
A new Rest Milling strategy for handling complex geometry with any cutter combinations delivers a more efficient toolpath and less machining time.
One of the outstanding features of CimatronE 12 is the powerful new EDM Setup environment that can fully control the electrode burning process on any EDM machine as well as enable safe, "lights-out" operation. It can be easily adapted to any customers' in-house methodology and standards, supporting both direct and indirect output file formats.
Mold and die designers will enjoy a revamped insert design application that automatically creates all standard aspects of the design, saving a lot of time and manual operations. Additionally, Motion Simulation is greatly enhanced, with the ability to conduct valuable dynamic analysis at the very start of a project.
To top things off, new cooling design and analysis capabilities support both traditionally drilled cooling channels as well as conformal cooling channels that are typically manufactured using 3D printing technologies. CimatronE 12 also supports the AMF (Additive Manufacturing File) format - the new standard for converting 3D models into digital files.
About Cimatron
With over 30 years of experience and more than 40,000 installations worldwide, Cimatron is a leading provider of integrated, CAD/CAM software solutions for mold, tool and die makers as well as manufacturers of discrete parts. Cimatron is committed to providing comprehensive, cost-effective solutions that streamline manufacturing cycles and ultimately shorten product delivery time.
The Cimatron product line includes the CimatronE and GibbsCAM brands with solutions for mold design, die design, electrodes design, 2.5 to 5 axes milling, wire EDM, turn, mill-turn, rotary milling, multi-task machining, and tombstone machining. Cimatron's subsidiaries and extensive distribution network serve and support customers in the automotive, aerospace, medical, consumer plastics, electronics, and other industries in over 40 countries worldwide.
Cimatron's shares are publicly traded on the NASDAQ under the symbol CIMT. For more information, visit http://www.cimatron.com
Featured Product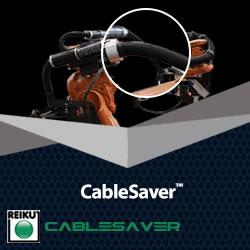 REIKU's Cable Saver™ Solution eliminates downtime, loss of revenue, expensive cable and hose replacement costs, maintenance labour costs. It's available in three sizes 36, 52 and 70 mm. All of the robots cables and hoses are protected when routed through the Cable Saver™ corrugated tubing. The Cable Saver™ uses a spring retraction system housed inside the Energy Tube™ to keep this service loop out of harms way in safe location at the rear of the Robot when not required. The Cable Saver™ is a COMPLETE solution for any make or model of robot. It installs quickly-on either side of the robot and has been tested to resist over 15 million repetitive cycles.