TI's wireless haptic development kit enables easy tactile feedback prototyping in a wide range of applications
DALLAS, Sept. 3, 2014 -- Texas Instruments (TI) (NASDAQ: TXN) today introduced the industry's first wireless haptic development kit, providing system designers with a fast and convenient way to prototype eccentric rotating mass (ERM) motor and linear resonant actuator (LRA) haptic effects. Using Bluetooth® low energy (BLE) and a free iOS app, the Haptic Bluetooth Kit (DRV2605EVM-BT) enables designers to create haptic sequences and LED patterns for tactile feedback, notifications and alerts from a pre-licensed library of more than a hundred distinct haptic effects, eliminating wires and the need to design haptic waveforms. For more information or to order the Haptic Bluetooth Kit, visit www.ti.com/drv2605evm-bt-pr.

System designers can use the Haptic Bluetooth Kit to select and test haptic effects from the Immersion-licensed library for virtually any touch-enabled application, from wearables and portable medical equipment to human machine interface (HMI) panels and augmented reality. It features the DRV2605 haptic driver for ERM/LRA and a SimpleLink™ Bluetooth low energy CC2541 wireless microcontroller. The kit also includes an LRA and alkaline battery support, which enables designers to mount the board to any surface for quick prototyping and integration. The iOS app allows designers to control on-board LEDs for attention-grabbing lighting effects.
A TI Designs reference design enables designers to quickly add haptic technology to space-constrained, low-power wireless systems, such as touch remote controls, smart watches and portable insulin pumps. The Haptic Feedback with Bluetooth Low Energy and iOS App Reference Design (TIDA-00266) includes schematic design and layout files, test results, sample code and complete user documentation, as well as a CAD file for a wrist-worn form factor.
The Haptic Bluetooth Kit joins TI's growing haptic development tool portfolio, which includes the Haptic Capacitive Touch Evaluation Kit (DRV2605EVM-CT) and HapTouch BoosterPack (BOOSTXL-HAPTOUCH).
Pricing and availability
The Haptic Bluetooth Kit (DRV2605EVM-CT) can be purchased today for US$99. The free iOS app is available on the Apple App Store.
About haptic technology
Haptic technology adds tactile feedback to user interfaces through vibrations, providing a differentiated and more engaging user experience. The technology has become popular in portable and touch-enabled consumer devices, and is finding its way into industrial and automotive systems as manufacturers identify new ways for the technology to enhance the user's experience and reduce distractions. For more information about haptics, visit www.ti.com/haptics-pr.
Learn more about TI's haptic driver portfolio by visiting the links below:
*Buy the Haptic Bluetooth Kit.
*Download the DRV2605 datasheet or sample the device.
*Watch a video to learn more about Haptics technology or watch a demonstration of the DRV2605.
*Search for solutions, get help, share knowledge and solve problems in the Haptics Forum in the TI E2E™ Community.
About Texas Instruments
Texas Instruments Incorporated (TI) is a global semiconductor design and manufacturing company that develops analog ICs and embedded processors. By employing the world's brightest minds, TI creates innovations that shape the future of technology. TI is helping more than 100,000 customers transform the future, today. Learn more at www.ti.com.
Featured Product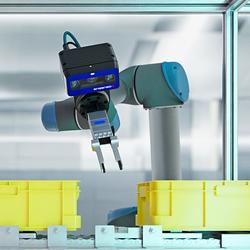 IDS NXT: a platform for a new generation of vision systems for industrial applications. It lays the groundwork to provide easy-to-use yet flexible complete systems that can be used to implement all steps of a vision solution. With IDS NXT ocean, a complete solution especially for AI-based image processing is now available. It allows to solve tasks where classic, rule-based image processing has reached its limits - without any programming effort.