With over half of its Kickstarter campaign completed, the worlds smallest, adaptive and most affordable motion capture system has reached its funding goal and released news about its stretch goals.
Beijing, China September 02, 2014

Perception Neuron, the worlds smallest, adaptive and versatile wireless full-body motion capture system for virtual reality, motion capture and visual effects is proud to announce that it has surpassed its Kickstarter fundraising goal of $250,000 with over 800 backers. Perception Neuron has also been selected as a Kickstarter Staff Pick and placed in first position in the technology category on both Kicktraq.com and Kickspy.com.
"The first thing we want to do is thank all of our backers," exclaims Dr. Tristan Dai, Developer of Perception Neuron and co-founder of the company. "Building a project for people that actually care about the outcome and the process is so rewarding and motivating."
Two stretch goals have already been announced. At the $300,000 mark, backers will be able to choose between the Rumbler or the Shutter. The Shutter is a remote control that will allow the user to trigger an action remotely such as start/stop or time stamps. The Rumbler is a special component of the system with audible and vibration feedback. It is designed to provide a form of tactile feedback for VR interaction. Pledgers will get one Rumbler for every 10 Neurons backed.
A second stretch goal of $400,000 has also been released. At this mark, all the Perception Neuron hubs will be equipped with a local SD storage card hub allowing users to perform motion capture independent of a live computer connection. The backers will also be rewarded with a six month license to Perception Axis, a professional version of one of the included software with added features and plugins.
The Perception Neuron Kickstarter campaign ends on September 12, 2014.
About Noitom Ltd.
Founded in 2011, Noitom Ltd. works with a team of dedicated engineers who develop world-class motion capture technology for consumer and industrial markets through the integration of MEMS sensors, pattern recognition, human kinetics and wireless transmission. Noitom is an international leader in innovative technology for use in animation, film, medical applications, robotics and gaming. Noitom is headquartered in Beijing with affiliate offices in Shenzhen. For further information about Noitom and its services, please visit, http://www.noitom.com. For general inquiries, please email, info@noitom.com.
Featured Product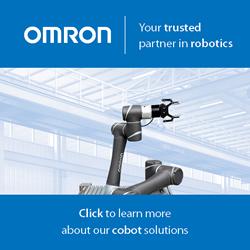 Humans and robots can now share tasks - and this new partnership is on the verge of revolutionizing the production line. Today's drivers like data-driven services, decreasing product lifetimes and the need for product differentiation are putting flexibility paramount, and no technology is better suited to meet these needs than the Omron TM Series Collaborative Robot. With force feedback, collision detection technology and an intuitive, hand-guided teaching mechanism, the TM Series cobot is designed to work in immediate proximity to a human worker and is easier than ever to train on new tasks.