The trend towards miniaturisation while delivering maximum sensor performance means great expectations are being placed on ultrasonic sensor manufacturers.
Troy, Michigan September 09, 2014

The demands placed by industry on sensors and their manufacturers are growing continuously - and ultrasound technology provides solutions to meet these demands, for almost every conceivable application. As a leading manufacturer of ultrasonic sensor technology, and with patents pending on a number of special developments, this article looks at how challenging applications can be solved by microsonics industry-leading ultrasonic sensor technology.
The trend towards miniaturisation while delivering maximum sensor performance means great expectations are being placed on ultrasonic sensor manufacturers. Microsonic has risen to the challenge of manufacturing sensors to meet and exceed these demands. microsonic, the ultrasonic sensor specialist, has just launched its new nano class; building on the proven performance of their compact class. The new nano is the shortest M12 ultrasonic sensor on the market.
What is reflected is also detected!
In comparison to optical sensors (which detect light-reflecting/light-impenetrable objects) or inductive sensors (which recognise only ferromagnetic metal components), ultrasonic sensors can be applied to applications with almost no restrictions. Ultrasonic sensors detect almost all sonically reflective materials without contact and can be used with almost every fluid, gas, film, material or coarse-grained parts, chippings, fine sand as well as the thinnest of cables. These sensors provide high measurement-precision in ranges of up to 15m. Even in dirty environments where sensors are subject to particulate matter in the air and disruptive extraneous light, ultrasonic sensors can detect the intended object. Sound-absorbent objects can be detected with a two-way ultrasonic barrier, using a fixed reflector.
The high sensitivity of the Nano ultrasonic sensor will allow for detection and measurement of almost every conceivable material and its robust construction makes these ultra-compact, ultrasonic sensors the ideal sensor for practically every industrial application.
How do ultrasonic sensors work?
1. The standard ultrasound measurement principle, Echo Runtime Measurement, is applied in ultrasonic distance sensors and ultrasonic proximity switches for presence detection and distance measurement. An ultrasonic sensor emits a cyclical high-frequency acoustic pulse which transmits through the air at the speed of sound. When it meets an object, it is reflected and the echo returns to the sensor. The interval between the emission of the ultrasound and the reception of the echo, is used to calculate the distance to or presence of the object.
2. Some applications require special measurement techniques such as amplitude evaluation. During ultrasonic sampling, the strength with which the signal is received provides information about the position or composition of the material, located between the sender and receiver. These measurement methods are used for applications such as double-sheet control, label and splice applications or in web edge monitoring.
Examples for the industrial application of compact ultrasonic distance sensors:
*The positioning of wafers in the semi-conductor industry
*Fill-level measurement in small containers
*Wire-break monitoring
*Sampling of small bottles in the packaging industry
*Presence checking
*Detection of PCBs in the electronics industry
*Detection of stoppers in bottles
*Detection of packaging
*The monitoring of moistening agents in printing machines
*The counting of small objects on the conveyor belt
*Sheet detection on paper-processing machines
*Detection of glass panes
*Micro crack checks in the textile industry
*Volume flow control for bulk material
Loop control
Robot gripper arm positioning
Diameter measurement of small coils
... and even more intelligence with the IO-Link
microsonic ultrasonic sensors serve all conventional interfaces, including the interface of the future: IO-Link. The IO-Link interface enables the real-time, complete and bi-directional transmission of measurement values, process data and service data between the control system and the sensor. This technology applied to sensors; enables the simplification of commissioning, operation and maintenance of machines or systems; the improvement of performance and availability; the optimisation of process flows; and the application of sensors in ever-more application areas.
IO-Link connects the sensor with an IO-Link master via a standard 3-conductor sensor cable of up to 20 m in length. An IO-Link master is equipped with one or more inputs and outputs to which an IO-Link device can be connected. Complete compatibility with SIO mode (Standard IO mode) enables mixed operation. A number of sensors can be operated on a single master in IO-Link and SIO mode.
As an intelligent communications interface, IO-Link brings a number of advantages in comparison to other systems (such as the conventional direct cabling) in terms of automation technology, and will provide the base for innovative developments over the coming years:
The first IO-Link capable sensor from microsonic was the pico+, ideally-suited to applications in the production of glass bottles, full and empty crate control or the sampling of empty PET bottles on a conveyor belt.
Here are some of the additional innovations available from microsonic:
pico+ - compact form with 90° angular head, multiplex operation, IO-Link interface
pico+-ultrasonic sensors are a compact sensor with a M18 threaded body and a housing length of only 41 mm. In addition to the axial beam direction, a housing variation is available with a 90° angular head and radial beam direction for special applications. With four detection ranges between 20 mm - 1.3 m and three different output stages, the sensor family covers a broad spectrum of applications. Automatic synchronisation and multiplex operation enables the simultaneous operation of up to ten sensors in the most confined of spaces.
zws - fast measurements with high machine speeds and in the smallest of gaps
With its detection range between 20 mm and 1 m and the switching and analogue outputs, the microsonic zws comes with a cuboid housing; the form of the housing and its installation are compatible with a number of optical sensors. This facilitates the easy changeover to ultrasonic sensors in critical applications. With a switching frequency of up to 250 Hz, the zws 7 is ideally suited for applications requiring fast sampling. With its optional "SoundPipe", a waveguide attachment, it can also be used for especially difficult measurement tasks such as counting at high speeds and it can measure filling levels in the smallest of apertures - a typical application is the level measurement in microplate "wells" as used in medical analysis applications.
sks - the highest of precision and an alternative to optical sensors
The sks sensors were previously the smallest ultrasonic sensors provided by microsonic and in comparison to the zws, present a 33 percent smaller housing volume. The sks is ideally suited for sampling printed circuit boards and wafers in the electronics industry; or packaging machines on which transparent or highly-reflective films need to be recognised. In addition to its very small housing dimensions, with two M3 screw bushings for fastening, they have identical form and fit with a number of optical sensors; they thus provide a real alternative for use in critical applications. The sks measures with 0.1 mm resolution, thereby guaranteeing the highest of precision.
*New*: The Nano - The smallest ultrasonic sensor in the world
With a total length of only 55 mm including connector, the new Nano from microsonic is the shortest M12 ultrasonic sensor available on the market. The smallest of its type in the world, it provides two detection ranges: 250 and 350 mm, available with analogue or switching output.
microsonic products and solutions are available in North America through TR Electronic
Featured Product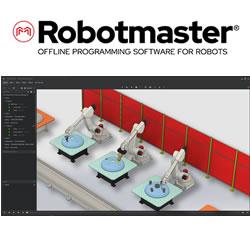 Robotmaster delivers unmatched, full-function off-line programming capability for robots - easy programming of precise robot motion control and quick generation of path trajectories of any size, with minimal programmer intervention. Our strong background in CAD/CAM (Computer Aided Manufacturing) software has enabled us to bring a revolutionary approach to programming industrial robots.