Virgin teams with 3D Robotics to take consumer drone applications to the next level—fast!
Berkeley, CA September 15, 2014

3D Robotics, the leading North American drone company across both consumer and enterprise channels, today officially welcomes Sir Richard Branson as the latest investor in the company, after the iconic entrepreneur was blown away by 3D Robotics' technological capabilities, disruptive vision and extensive professional community. In addition, 3DR announced smartwatch integration with the IRIS+ platform, making on-the-go use of the IRIS+ and its revolutionary Follow Me technology even easier.
3DR CEO Chris Anderson and CTO Jordi Muñoz have both contributed visionary articles about the future of drones (respectively Democratizing The Overview Effect and How to Become a Drone Entrepreneur) to the Virgin blog. Additionally, 3DR today released a welcome "postcard" video shot entirely during their visit to Branson's Necker Island in the Virgin Islands.
"It's amazing to see what a little flying object with a GoPro attached can do. Before they came along the alternative was an expensive helicopter and crew," stated Branson, founder of the Virgin Group. "I'm really excited about the potential 3DR sees in drones. They can do a lot of good in the world, and I hope this affordable technology will give many more people the chance to see our beautiful planet from such a powerful perspective."
This perspective now entails another upgrade to the IRIS+ platform that 3DR released last week, integrating smartwatch wearable technology with the IRIS+ 3PV™ Follow Me application. 3PV™ keeps the IRIS+ camera centered on you as you do what you do, and wearable technology makes this even simpler, as well as expands the possibilities of what you can do with the camera while you're in action. Because a smartwatch sits on your wrist and isn't held in your hand like a phone or tablet, its screen is more accessible and less obtrusive to activity if you want to operate Follow Me modes in action. From the smartwatch screen, you can switch modes mid-flight with the tip of your finger: tell the drone to follow left, follow right, lead you, or circle.
The IRIS+ with the free integrated smartwatch application is now available for purchase at http://www.3DR.com, for only $750.
New Video of Branson's Necker Island: https://www.youtube.com/watch?v=MXS-7ntYMe4&feature=youtu.be
Facebook Page: https://www.facebook.com/3drobotics
Photo of IRIS+ in Action: http://snk.to/f-ct3l65mu
Photo of IRIS+ Tablet App: http://snk.to/f-cdniy9px
High-res Product Shot: http://snk.to/f-ctisg83c
Featured Product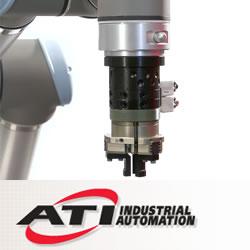 ATI Industrial Automation's MC-10 Manual Tool Changer provides a cost-effective solution for quickly changing tools by hand. Its compact yet robust design is optimized for collaborative robot applications. The ergonomic twist-collar locking mechanism ensures a secure attachment of the tool and easy manual operation with tactile feedback. This Manual Tool Changer can carry payloads of up to 22 lbs and includes multiple fail-safe features that resist vibration and prevent loosening. The MC-10 Manual Tool Changer has integrated air pass-through connections and options to connect electrical utilities if needed. ATI will feature the new MC-10 along with a variety of other robotic demonstrations and product displays at this year's IMTS show in Chicago (Booth #236417).