Kratos Defense & Security Solutions, Inc., a leading National Security Solutions provider, announced today that its Micro Systems, Inc. subsidiary of the Kratos Unmanned Systems Division (KUSD) recently received a delivery order from the U.S. Navy valued at $4.8 million for unmanned aerial drone system command and control systems and services.
Under the new contract award, Kratos will provide engineering support and develop upgrades to unmanned aerial drone command and control electronics and related ground control stations. Kratos' Unmanned Systems Division is a premier provider of high performance unmanned drone aircraft and these systems' related avionics, electronics, command and control systems, solutions, services and logistics.

Kevin Ferguson, Senior Vice President of Micro Systems, Inc., said, "Micro Systems is proud to have received this recent delivery order from this valued customer. We look forward to continuing our long and highly successful relationship with the U.S. Navy's Aerial Target & Decoy Systems Program Office. We believe that our business is very well positioned to meet or exceed our customers' requirements for high performance unmanned aerial drone command and control electronics and support services."
About Kratos Defense & Security Solutions
Kratos Defense & Security Solutions, Inc. (Nasdaq:KTOS) is a specialized National Security technology Company providing mission critical products, solutions and services for United States National Security. Kratos' core capabilities are sophisticated engineering, manufacturing and system integration offerings for National Security platforms and programs. Kratos' areas of expertise include Command, Control, Communications, Computing, Combat Systems, Intelligence, Surveillance and Reconnaissance (C5ISR), satellite communication systems, electronic warfare, unmanned systems, missile defense, cyber warfare, cybersecurity, information assurance, and critical infrastructure security. Kratos has primarily an engineering and technically oriented work force of approximately 3,600. Substantially all of Kratos' work is performed on a military base, in a secure facility or at a critical infrastructure location. Kratos' primary end customers are National Security related agencies. News and information are available at www.KratosDefense.com.
Featured Product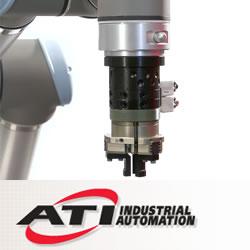 ATI Industrial Automation's MC-10 Manual Tool Changer provides a cost-effective solution for quickly changing tools by hand. Its compact yet robust design is optimized for collaborative robot applications. The ergonomic twist-collar locking mechanism ensures a secure attachment of the tool and easy manual operation with tactile feedback. This Manual Tool Changer can carry payloads of up to 22 lbs and includes multiple fail-safe features that resist vibration and prevent loosening. The MC-10 Manual Tool Changer has integrated air pass-through connections and options to connect electrical utilities if needed. ATI will feature the new MC-10 along with a variety of other robotic demonstrations and product displays at this year's IMTS show in Chicago (Booth #236417).