Power Automation Systems is pleased to announce the release of the newest generation of pallet retrieval and delivery systems for warehouse automation with the ROW BOT-S2
Lathrop, CA September 16, 2014

Power Automation Systems (PAS), the engineers behind the first fully automated warehouse solution of its kind, has released the newest generation of automated technology with the ROW BOT S-2 (RB-S2). Through the use of simultaneous payload distribution, the robotic pallet retrieval and delivery system enables deeper storage capacity and increased efficiency.
"The RB-S2 is the workhorse of the PowerStor system with the most complex list of tasks," said PAS president Rodney Tipton. "All the critical transferring movements of the customers product are performed by the RB-S2. The improvements made to it increase reliability, reduce maintenance, lower cost and energy consumption." Equipped with four-wheel drive, absolute positioning, lithium ion battery power, and zero chains, sprockets, or gears, the updated ROW BOT S-2 represents the latest in PAS continual devotion to automation technology.
The innovative PowerStor warehouse automation solution adapts to any warehouse — no matter the size constraints — to retrofit the existing space to a fully automated warehouse solution. With the simultaneous use of automated carriers and lifts performing work independently, PowerStor has the ability to make every warehouse the worlds most efficient with the highest density and throughput in the industry.
Stemming from consumer feedback and advanced engineering refinements, the RB-S2 has been enhanced to minimize maintenance and maximize efficiencies within the greater PowerStor ecosystem. The absolute positioning laser sensor provides improved inventory accuracy, heightened system reliability, and a pallet retrieval and delivery system that has 60 percent more torque and far greater drive mechanism than any other similar technology on the market. With a six-month maintenance cycle and three-year battery life, the RB-S2 is fundamentally designed to cut long-term cost.
"To date, we have made more than two million pallet moves with the PowerStor system in our Raleigh plant. We densified our original storage space from 55 percent to 85 percent. This space went from holding an average of 4,500 full goods pallets to 8,000," said Matthew Bucherati, senior vice president of operations at Pepsi Bottling Ventures. "Our product pallets tended to be heavier and needed to travel faster than PAS initial systems were accustomed to. They made significant modifications and advancements to the RB-S2 to enhance their speed, performance and reliability."
Pepsi bottling ventures implemented PowerStor at their flagship facility in response to rapid volume growth and lack of expansion space. The facility produces over 35,000,000 cases of beverage products annually. "Simply stated, we would not be able to operate our facility today without the PowerStor system," said Bucherati.
More about Power Automation Systems:
Power Automation Systems is the leading innovator of automated warehouse products and solutions. A global company with headquarters and manufacturing in northern California, Power Automation Systems maximizes warehouse effectiveness with the worlds most innovative automated warehouse storage solution family, PowerStor®. The most sustainable option available today, the PowerStor® system optimizes a facility by providing the highest density, highest throughput, and greatest flexibility.
PAS - Because every warehouse deserves automation.
Featured Product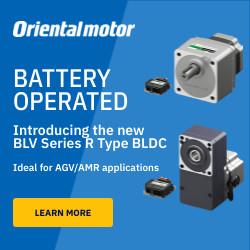 The BLE2 Series replaces our popular BLE Series and continues our brushless motor advantages by featuring an all new compact, high-power and high-efficiency brushless DC motor combined with a Driver that can be digitally set and controlled via external DC voltage or by the front panel. The BLE2 Series can easily compete with larger 3-phase inverter driven motors in many more applications, with built-in simple holding torque function, saving space and increasing performance thanks to the advantages of a brushless motor design. The BLE2 Series has a maximum speed of 4000 r/min, achieving a speed ratio of 1:50 (80 to 4000 r/min). The new motor structure is small than previous models and enables high power and high efficiency while incorporating easy setting, installation and wiring. The new motor connector offers IP66 degree of protection and allows for easy and direct connection between motor and driver with two available orientation of cable outlet direction. Standardized use of stain