Dr. Deron Jackson to Discuss Recent Advances in Collaborative Mobile Robotics, Real-World Adept "Lynx" Mobile Robot Applications
Pleasanton, Calif., September 18, 2014 - Adept Technology, Inc.

(Nasdaq:ADEP), a leading provider of intelligent robots, autonomous mobile
robot solutions, and services, today announced that Chief Technical Officer
(CTO) Deron Jackson will present on recent advances in the mobile robotics
field at the Robotic Industries Association (RIA) International
Collaborative Robots Workshop. The workshop is scheduled for September 30,
2014, at the San Jose Convention Center in San Jose, California.
Dr. Jackson's presentation, "Advances in Collaborative Mobile Robots," will
cover how new intelligent autonomous vehicles can navigate freely in dynamic
and congested environments without requiring facility modifications.
Designed to work safely alongside people, the robots open up new
opportunities for collaborative automation. Dr. Jackson will discuss where
Adept is leading this effort with its unique "Lynx" family of mobile robots
and present real-world, collaborative applications ranging from simple
transport to complex material movement.
Used in a variety of industries for rapid, reliable materials handling and
conveyance, Adept's Lynx mobile robots work safely with humans and
complement conventional automation systems. Lynx robots feature the on-board
intelligence to run in conjunction with the user's existing enterprise
software. They are ideal for use in large manufacturing facilities,
warehouses and distribution centers, and for "clean" wafer pod handling in
the semiconductor industry.
The RIA International Collaborative Robots Workshop will provide attendees
with a one-day opportunity to learn about key issues in the quickly evolving
area of collaborative robots - robots that work directly with people within
a specific workspace. Dr. Jackson's presentation is slated for the
"Collaborative Robot Technology and Applications - Part II" session at 11am.
For more information about the event, please see
http://www.robotics.org/events-detail.cfm?id=238.
About Adept Technology, Inc.
Adept is a global, leading provider of intelligent robots, autonomous mobile
robot solutions, and services that enable customers to achieve precision,
speed, quality and productivity in their assembly, handling, packaging,
testing, and logistical processes. With a comprehensive portfolio of
high-performance motion controllers, application development software,
vision-guidance technology and high-reliability robot mechanisms with
autonomous capabilities, Adept provides specialized, cost-effective robotics
systems and services to high-growth markets including medical, electronics,
food and semiconductor; as well as to traditional industrial markets
including machine tool automation and automotive components. More
information is available at www.adept.com.
Featured Product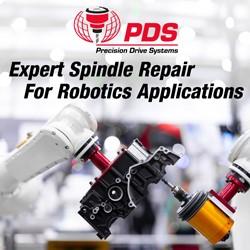 Precision components machined by CNC robot machining systems require compact, lightweight, and high-speed motorized spindles capable of delivering higher efficiency, performance, and reliability than those used in many other industries. That's why manufacturers of milling, cutting, trimming, grinding, polishing, and deburring trust Precision Drive Systems (PDS) to provide accurate and dependable spindle repair to perform to the most exacting standards.