Celebrating 10 Years as the Leading Robotics Conference
BOSTON, Sept. 18, 2014 -- Robots will invade Boston October 15-17 during RoboBusiness, the leading business development event for the global robotics market. Celebrating its 10th year, RoboBusiness 2014 will bring together 1200 CEOs, CTOs, CSOs, Investment Partners and VPs of Business Development from over twenty-two different countries to network, meet experts and develop relationships with senior-level executives, as well as see firsthand the newest technology in the global robotics industry.

"RoboBusiness was founded on the principle that new businesses, partnerships and investment result when all members of the international robotics community come together to network," said Dan Kara, ABI Research's Practice Director for Robotics and RoboBusiness 2014 co-chair "Over the years, that vision has been proven true. RoboBusiness is the place where ideas become reality."
RoboBusiness has an exciting list of keynote speakers this year, including:
*Colin Angle, iRobot
*Robert Ambrose, NASA-JSC
*Dr. Cynthia Breazeal, Jibo, Inc.
*Pam Henderson, NewEdge, Inc.
*Andrew McAfee, MIT
*Dr. Michael Bruenig, CSIRO
*Jim Buttrick, Boeing Company
*Professor Gregory Dudek, NCFRN
Throughout the event, breakout sessions and workshops will focus on the following tracks: Business Development, Commercial Design Trends, Disruptive Applications and Enabling Technologies
To kick off the conference, RoboBusiness will honor and highlight companies contributing remarkable technological accomplishments to their markets. The Game Changer Awards will recognize robotic products that demonstrate outstanding advancements in a variety of technology categories. Winners will be announced during the welcome reception the first night of the conference.
Startups also have their moment to shine:
*Pitchfire - Fifteen selected startups each receive 2 minutes to pitch their business concept to a panel of VC judges.
*Startup & Investor Matchmaking - A private networking reception immediately following the Pitchfire event specifically for startups and investors.
"RoboBusiness acts as a rallying place for everyone involved in bringing cutting edge robotics to the marketplace," said Casey Nobile, Robotics Trends Media's Chief Content Manager and RoboBusiness 2014 co-chair. "This is not simply a conference where we discuss what's happening, we are making it happen."
Attendees will interact with over 80 companies and their robotic technologies, products and services. A full list of sponsors is available online here: http://www.robobusiness.com/sponsors.
Additionally, conference attendees are encouraged to join the social conversation using #RoboBusiness. For more information, the full conference program and to register to attend, visit www.robobusiness.com.
Featured Product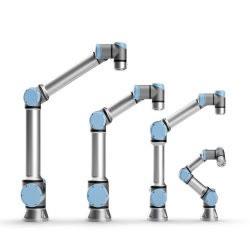 Collaborative robots from Universal Robots are bringing flexible, quick-to-deploy automation to manufacturers of all sizes. With payloads ranging from 3kg to 16kg, UR's cobots can handle nearly any dull, dirty dangerous task, from assembly to painting; palletizing to screw-driving; injection molding to welding. This family of four robot arms can help you improve productivity to compete in a global market. Learn more at www.universal-robots.com.