Receiving more than the double of their original $250,000 goal, the Perception Neuron team can now advance to the manufacturing stage of the worlds smallest, adaptive, versatile and most affordable motion capture system for virtual reality and visual effects.
Beijing, China September 23, 2014

The team at Perception Neuron, the worlds smallest, adaptive, versatile and most affordable full-body motion capture system for virtual reality and visual effects are celebrating the closing of their monumental Kickstarter campaign whose fundraising efforts brought in $571,908 in pledges from 1,329 backers.
Prior to the close of the campaign, Perception Neuron had been selected as a Kickstarter Staff Pick and placed in first position in the technology category on both Kicktraq.com and Kickspy.com. The project is also the biggest Kickstarter campaign ever funded for a company from China. The team is excited to continue moving forward and also wanted to extend their gratitude to every single backer that helped Perception Neuron reach such an extraordinary final number.
"After such a phenomenal Kickstarter campaign, the most important thing for us is to thank our backers," says Dr. Tristan Dai, developer of Perception Neuron and co-founder of Noitom, Perception Neurons parent company. "We have some of the most enthusiastic backers in the industry and they have been so supportive. They really understand and are passionate about the technology and they continue to inspire us in bringing it to fruition."
Production plans for the wireless motion capture system are well on their way. The Noitom team has been approached by several major, high-precision electronics manufacturers for a chance to mass-produce their unique product. "We were surprised to be contacted by some very well known companies who wanted to be associated with Perception Neuron," explains Haoyang Liu, CEO of Noitom. "They view this as a ground-breaking product and want to be part of its development." A decision on the manufacturing partner will be made in the near future.
The Perception Neuron team has also announced that they will be attending INDIECADE, the International Festival of Independent Games, in Culver City, California from October 9 through 12. They invite the public to come and visit them at their tent where they will be doing demos of various games including a new one where the user will be able to fly like a superhero. Tristan Dai and Tobias Baumann, Noitom Director of Game Development, will also hold a seminar on developing and programming games for Perception Neuron on October 9th at 10:15AM at the Vets Memorial Building as part of the event. Additional information is available at http://www.indiecade.com/.
For those who missed the Perception Neuron Kickstarter campaign, they will be able to pre-order the system starting September 26 at http://www.perceptionmocap.com.
About Noitom Ltd.
Founded in 2011, Noitom Ltd. works with a team of dedicated engineers who develop world-class motion capture technology for consumer and industrial markets through the integration of MEMS sensors, pattern recognition, human kinetics and wireless transmission. Noitom is an international leader in innovative technology for use in animation, film, medical applications, robotics and gaming. Noitom is headquartered in Beijing with affiliate offices in Shenzhen. For further information about Noitom and its services, please visit, http://www.noitom.com. For general inquiries, please email, info(at)noitom(dot)com.
Featured Product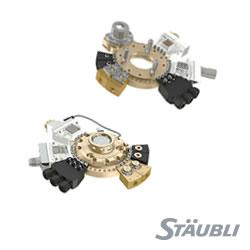 Stäubli is a pioneer in the construction and development of robotic tool changing systems. Our customers benefit from our many years of expertise in all industry sectors, as well as our modular product concept, which offers three efficient solution paths: MPS COMPLETE offers preconfigured robotic tool changers for immediate use. MPS MODULAR allows the user to determine the configuration, while MPS CUSTOMIZED allows the construction of special, application-specific systems.