Cutting Dynamics is one of the country's leading suppliers to the aerospace industry, providing an American-made solution for products that power engines, aircraft airframes and subassemblies.
Boston, September 23, 2014 - Cutting Dynamics today joined the roster of advanced manufacturers using collaborative robotics to transform its business, adding Rethink Robotics' Baxter robot to a critical part of its thermal deburring line in its Avon, OH plant. Baxter works alongside Cutting Dynamics' team of aerospace manufacturing engineers, automating the finishing process for its line of high-precision parts.

Cutting Dynamics is one of the country's leading suppliers to the aerospace industry, providing an American-made solution for products that power engines, aircraft airframes and subassemblies. The company, founded in 1985, is widely recognized for its innovation in laser-cutting hydro-forming and thermoplastics fabrication.
"We're starting with deburring," said Bill Carson, president and CEO at Cutting Dynamics, which employs 125 people at its Avon plant. "Baxter is working right next to our team, putting products on the belt for the final finish. We're in the business of precision: Consistency and accuracy drive our business - and Baxter's reliability and flexibility will be a great advantage to us as we look to leverage collaborative automation in our facilities."
Baxter is Cutting Dynamics' first collaborative robot, and a second one is already slated to be deployed in the next couple of months. Because Baxter rapidly adapts to changes in parts and tasks, the robots are expected to substantially improve operational efficiency - especially important for companies that specialize in highly complex products. Automating important-and-time-consuming tasks also means that several team members can now take on more complex and interesting work.
"Cutting Dynamics is a great example of innovative American manufacturing - with a stand-out reputation for quality, reliability, and precision," said Jim Lawton, CMO of Rethink Robotics. "We're delighted that Baxter can make this highly successful company even more competitive - especially in a competitive environment where high performance and flexibility are also expected to drive new efficiencies."
For more information, please visit www.rethinkrobotics.com.
About Rethink Robotics
Rethink Robotics, Inc. helps manufacturers meet the challenges of an agile economy with an integrated workforce, combining trainable, safe and cost-effective robots with skilled labor. Its Baxter robot, driven by Intera, an advanced software platform, gives world-class manufacturers and distributors in automotive, plastics, consumer goods, electronics and more, a workforce multiplier that optimizes labor. With Rethink Robotics, manufacturers increase flexibility, lower costs and can invest in skilled labor—all advantages in fueling continuous innovation and sustainable competitive advantage.
Committed to accelerating robotics innovation in manufacturing and beyond, Rethink Robotics' Baxter Research Robot gives academic and corporate research environments a humanoid robot platform with integrated sensors and an open software development kit for creating custom applications.
Based in Boston, Massachusetts, the company is funded by Bezos Expeditions, Charles River Ventures, Highland Capital Partners, Sigma Partners, Draper Fisher Jurvetson, and Two Sigma Ventures. For more information about Rethink Robotics, please visit www.rethinkrobotics.com
Featured Product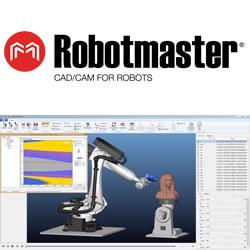 Since Robotmaster V7 uses integrated CAD/CAM functionality, for the first time, the power of Robotmaster can be used by welding, cutting and other process experts without buying or learning complex CAD/CAM software. As in past versions, Robotmaster V7 imports paths, but now makes it even easier for end users to leverage any CAD/CAM tool choice. It is an intuitive tool that anyone could use, with or without robotics expertise. It bridges the gap between robots and manufacturing by providing easy programming solutions for part manufacturing.