Showcasing their comprehensive secondary packaging solutions in Chicago this November, Pearson proves their commitment to helping manufacturers improve operations
Spokane, WA September 24, 2014

From November 2-5, PackExpo attendees will be able to take a closer look at a fully integrated end-of-line system, while experiencing first-hand how Pearsons User Centric Design drives efficiencies, improves operator effectiveness and reduces training requirements.
With the endorsement of Hostess Brands, LLC, maker of such iconic American treats as Twinkies or Ho Hos, Pearson Packaging Systems will be displaying a full secondary packaging line loading Twinkie Cartons into cases, similar to lines that have been deployed in support of the companys "Sweetest comeback in the history of ever." A CE25 Case erector will be forming the shipping boxes, which will subsequently be conveyed into the Robotic Top Loading Cell, where a Fanuc M10iA Robot will pick and place cartons into a case. Instead of using traditional flap control, the robots articulation will be used to place the cartons into the case before being transferred into the CS25 Case Sealer.
Visitors will be able to closely observe the superior performance of the dual-opposed erecting mechanism, the flexible motion of the articulated arm robot and the smooth and reliable case transfer of the patented independent roller system and synchronous drive. In addition, all three machines will be equipped with the latest User Centric Design enhancements, standard on all Pearson machines. Attendees will be able to experience first-hand how training, changeovers and fault recovery improve significantly as a result thereof.
Both system integration and the Pearson User Centric Design directly demonstrate Pearsons dedication to continuously lower the total cost of ownership for individual machines and entire packaging systems, a commitment that is built on three pillars - Collaboration, Integration and Guaranteed Results. "With over 18,000 deployed machines worldwide, Pearson has earned a reputation for high quality, reliable machines. As a full service provider with professional project management, 24/7 Service, and a dedicated Aftermarket as well as Parts Department, we provide our customers additional value and save them money in the long run. Backed by a performance guarantee, we support our customers not only in attaining their initial automation goals but also in optimizing their overall equipment effectiveness throughout the life of their packaging machines. To emphasize this commitment, we adopted the tagline Real Partners. That Simple. - We say what we do and do what we say - to us it is that simple," states Michael Senske, President and CEO of Pearson Packaging Systems.
http://pearsonpkg.com/
Featured Product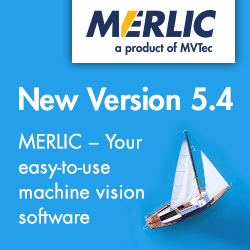 MVTec has launched the newest version 5.4 of its easy-to-use machine vision software MERLIC on Oct. 25. Its focus is on easier process integration. MVTec MERLIC 5.4 includes state-of-the-art machine vision technologies, plug-ins for direct communication with different PLCs and can be used to create complete machine vision applications. Try the new MERLIC 5.4 now!