Hurley Research LLC today announced the launch of the Droidles Project, the first ever connected network of autonomous robots that evolve together. The Social Network of Robots, Droidles is a 3-part system consisting of cute little palm-sized robots, mobile apps for remote control and simple kid-friendly programming, and an open cloud service with website.
Aromas, CA September 25, 2014

The first product launch from start-up Hurley Research LLC, Droidles is a next generation approach to robotics. What sets Droidles completely apart from other stand alone robotic toys is patent pending technology that allows them to communicate, share code with each other and evolve new programs, all wirelessly over the internet.
"The invention is the system," said Hurley Research founder Jay Hurley. "We're giving the little Droidles a life of their own, both physically and on the internet." Remote controlled and programmable by smartphone or tablet using Bluetooth 4.0, Droidles do more than just explore their environment and play with each other: each Droidle has its own web page at droidles.com, just like people use Facebook, where the Droidle itself can post events, make friends, share programs and songs.
The life-like movements and expressions are by design according to lead hardware architect Tom Poliquin. "We're not using traditional servo-based mechanics that make past robots look, well, 'robotic'. We're taking advantage of motion sensing technology used in UAVs and DC motors to give Droidles the same kind of motion feedback loop that animals use." In addition to colored LEDs, Droidles express themselves musically by "whistling" melodies over a built in speaker, but the melodies can be improvised as well as programmed, and Droidles can catch on to each other's songs, sing together, even harmonize using the jazz theory engine that is part of the firmware. "It all comes together to be both playful and fun to watch, and a powerful platform for experimentation."
The much anticipated Internet of Things is getting a thought-provoking twist. "Droidles is the Internet of things, for the things, and by the things, not just more of people's stuff sending status messages to a website. The Droidles are in charge of this IoT!" said Hurley.
Asked about why the entire Droidles platform is open source, Hurley says, "We're not open sourcing the project just to be nice; it's a core feature of the product. All owners will benefit because the most amazing behaviors will come from creative users across the world. Our job is to make the platform easy to use so more people can participate."
The Droidles Project has launched on Kickstarter.com to raise funds to build the first 1000 units or more. "We chose Kickstarter because it's the largest [crowd funding platform], particularly for international customers, and Droidles is a mostly language agnostic product," said Hurley.
To learn more about Droidles, visit the Droidles funding campaign on Kickstarter, https://www.kickstarter.com/projects/1088897097/droidles-little-robots-with-social-lives-open-sour , or visit http://www.droidles.com.
Featured Product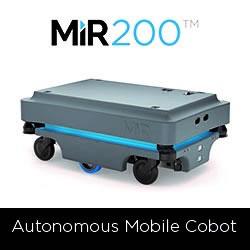 MiR200 is a safe, cost-effective mobile robot that automates your internal transportation. The robot optimizes workflows, freeing staff resources so you can increase productivity and reduce costs. MiR200 safely maneuvers around people and obstacles, through doorways and in and out of lifts. You can download CAD files of the building directly to the robot, or program it with the simple, web-based interface that requires no prior programming experience. With its fast implementation, the robots offers a fast ROI, with payback in as little as a year.