Noble Plastics has greatly increased its business and work force since incorporating robotics and automation.
ROCHESTER HILLS, Mich.--FANUC America Corporation has released a new YouTube video about Noble Plastics Inc., a Grand Coteau, Louisiana-based contract manufacturer for plastics materials that has seen tremendous growth and expansion with the help of robots and automation. Watch the video here. (http://youtu.be/UaArJMR8tn4)

According to Missy Rogers, Noble Plastics president since 2000, the company purchased its first industrial robot from FANUC with no prior experience in using robotics for manufacturing. She knew, however, that in order to win contracts purchasing robots for automation was crucial. "14 years later here we are, we cant imagine putting in a manufacturing cell without automation," said Rogers.
Noble Plastics has greatly increased its business and work force since incorporating robotics and automation. The company prides itself on being an enjoyable, innovative workplace for employees who often work side-by-side with the automation. "Some customers ask the question, dont the robots make your employees nervous that theyre going to take their job?" said Scott Rogers, Technical Director, Noble Plastics. "And the answer is, no - Our employees really drive the use of those systems and the expansion of those systems into other areas."
"We used to have a buzzword: 'Exploit technology, not people, added Missy Rogers. "Low-cost labor exploits people. Efficient manufacturing exploits technology; thats what we do here."
Rogers says she has seen a resurgence in manufacturing since the recession, and credits automation for the revival. "Whats coming back is stronger than its ever been. In a global marketplace, relationships are important, but you have to have the quality that goes with that. Automation gives us a consistent, reliable process … and that gives our customers the best result."
Featured Product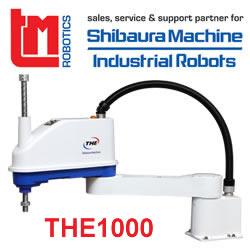 Designed for assembly and inspection applications in the electronics equipment and automobile components industries, the THE600 SCARA is a powerful automation tool. Advancing from the specifications of the existing THE400 SCARA, the THE600 has been developed to meet growing demand for fast-cycle automation. The THE600 model includes improvements in synchronised control and tracking precision. The THE600 is compact in design and offers improved high speed, with 60 per cent higher payload capacity than competing SCARA models in the same price range, making it the price-to-performance leader. Affordable price, impressive performance.