Collaboration Expands Wynrights Stable of Material Handling Offerings, Enhances Knapps Presence in North America
ELK GROVE VILLAGE, Ill. & KENNESAW, Ga.--Wynright Corporation, a wholly owned subsidiary of Daifuku Webb and a leading U.S.-based provider of intelligent material handling systems and KNAPP AG, through its wholly owned U.S.-based subsidiary, KNAPP Logistics Automation, Inc., jointly announced today a licensing agreement for the OSR Shuttle™, a high-performance automatic picking and storage system acknowledged for its scalability, safety and sustainability, especially in reducing energy consumption.

Combining engineering prowess, products and services, Wynright solves the material handling systems challenges of the 21st Century supply chain. It offers a complete set of material handling solutions for easy integration with a clients business processes and applications. Its agreement with Knapp addresses the growing market demand for both sequencing buffers and goods-to-person-based solutions.
"Wynright continues to elevate the productivity of warehouses and distribution centers, and our agreement with Knapp underscores that commitment," said Kevin Ambrose, President and CEO of Wynright. "By licensing Knapps technology, we have aligned ourselves with the No. 1 global supplier of shuttle systems, expanding the breadth of industry leading solutions we can offer our clients."
A global leader in turnkey intralogistics solutions, Knapp serves customers around the world in pharmaceutical, retail, fashion, media, food and other industries. The market pioneer for Shuttle Systems, Knapp has an extensive history of bringing the latest technology to warehouse logistics.
"Knapp is recognized as a technology leader and for our innovative solutions approach to warehouse order fulfilment and distribution. It is very exciting to be able to continue our success in North America by providing end-to-end automated material handling solutions to our existing and future customers, while at the same time creating new sales channels like the agreement with Wynright, giving it the ability to resell Knapps industry leading OSR Shuttle technology to its customers," stated Josef Mentzer, KNAPP US CEO.
Known for modernizing warehouse logistics, the OSR Shuttle™ provides space-effective storage for different load carriers, efficient picking, error-free buffering and sequencing, and reliable replenishment of flow racks. More than 200 shuttle systems, comprising more than 16,000 shuttles, are in operation globally.
About Wynright Corporation
Wynright Corporation, a wholly owned subsidiary of Daifuku Webb, is a leading provider of intelligent material handling systems. With more than 200 engineers in-house, the company designs, manufactures, integrates and installs a full spectrum of intralogistics solutions, offering both Wynright-branded and third-party equipment to meet client needs. These include leading-edge conveyor and sortation systems, voice- and light-directed order fulfillment equipment, a suite of warehouse controls & execution software, robotics, mezzanines, and structures, all backed by critical round-the-clock service and support.
Since its founding in 1972, Wynright has been a trusted partner to some of the worlds largest and fastest-growing companies, showing them how to use their space more efficiently to deliver improved productivity, today and tomorrow.
About Daifuku Webb Holding Company
Daifuku Webb Holding Company, a subsidiary of Daifuku Co. Ltd., is a leading developer of innovative material handling technology such as Automatic Guided Vehicles (AGVs), Automated Storage and Retrieval Systems (AS/RS), conveyors, baggage handling systems, bulk handling systems, cleanroom systems and airport maintenance services. It includes Daifuku America Corporation, Jervis B. Webb Company, Elite Line Services, Logan Teleflex, Inc. and Wynright Corporation. Daifuku Webb specializes in the design, engineering, manufacturing, installation and service of integrated systems used in the automotive, airport, semiconductor, LCD equipment, food/beverage, bulk, warehousing and manufacturing industries. Daifuku Webb Holding Company is headquartered in Farmington Hills, Mich., with manufacturing locations throughout North America.
About KNAPP AG
KNAPP AG operates internationally in the field of warehouse automation and warehouse logistics software. The company has 2,500 employees worldwide and more than 1,500 installations globally. KNAPP has 20 subsidiaries and 13 representative offices around the globe. In the past fiscal year, the 60+ year old company achieved record revenue.
Featured Product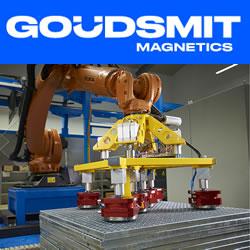 Magnetic robot end-of-arm tooling are suitable for the automated pick-up and positioning of steel or other ferromagnetic objects. They can be switched on and off and have a threaded mounting hole for robots. Magnetic grippers are an efficient alternative for traditional robot grippers. Application in automated production lines and for robots and pick-and-place systems. Magnetic product handling reduces the duration and number of operations. Goudsmit Magnetics is driven by magnetism since 1959. See how it works: https://youtu.be/hcXJ98mXHZE