Conference Will Feature Speakers and Interactive Displays Showcasing the Future of Innovation
Pasadena, CA October 01, 2014

Innovate Pasadena, an organization committed to advancing greater Pasadena as a center of technology and design innovation, presents Envision 2014: The Innovate Pasadena Summit, a one-and-a-half day conference focused on the trends that will shape innovation over the next 20 years. Envision 2014 will feature a diverse group of keynote speakers and a thrilling array of interactive displays and experiences. The summit will take place on October 22 and 23 at the Pasadena Convention Center as part of CONNECT Week, a series of collaborative events celebrating innovation in Pasadena. CONNECT Week runs from October 20 - 26.
Day one of the Envision Summit will kick off in the evening on Wednesday, October 22 with a keynote address from investor and entrepreneur Scott Painter (Founder and CEO of TrueCar) followed by a networking mixer. The program will continue on Thursday with six speakers, a panel of venture capitalists discussing the "future of money," a startup company "Fast Pitch" contest and a closing cocktail reception. Spread throughout the conference, attendees will be dazzled by innovation in its various forms, from live graffiti artists, drones flying overhead, wandering robots, animatronics and more.
"We have assembled a world-class lineup of speakers representing thought leadership in technology, design, healthcare, and business innovation," said Mike Giardello, CEO of Materia and co-chair of Innovate Pasadena. "Attendees can look forward to a series of dynamic presentations and interviews as well as a variety of innovative collateral activities."
"With the recent attention focused on innovation in the region, the last few months have been extremely exciting for technology and design groups in the area," said Mark Breitenberg, co-founder of the Design Accelerator and chair of the Envision Summit. "The summit experience will reflect this buzz with immersive activities showcasing true innovation in many different fields."
Interested attendees can register at http://www.eventbrite.com/e/envision-the-innovate-pasadena-summit-2014-tickets-12981404731. Early bird registration is priced at $199 and ends on October 3. General registration, priced at $299, runs through October 20 and for those who register after October 20, the price will be $379.
Summit Speakers include:
*Frances H. Arnold, The Dick and Barbara Dickinson Professor of Chemical Engineering, Bioengineering, and Biochemistry and Director of the Rosen Bioengineering Center at the California Institute of Technology
*Andra Keay, Managing Director, Silicon Valley Robotics; Robot Startup Evangelist
*Jack Kreindler, Doctor, Technologist, Investor; General Partner & Chief Medical Officer at Frost Data Capital
*Mark Meadows, Co-Founder and Creator of Geppetto Avatars
*Patricia A. Moore, President of Moore Design Associates
*Scott Painter, Founder and CEO of TrueCar
*Sharon Vosmek, CEO of Astia
For additional details on the schedule, speakers and more, please visit http://www.innovatepasadenasummit.org.
ABOUT INNOVATE PASADENA
Innovate Pasadena is committed to advancing greater Pasadena as a center of technology and design innovation by promoting collaboration across business and education to attract companies, entrepreneurs, innovators and capital to the broader community. For more information, visit http://www.innovatepasadena.org.
Featured Product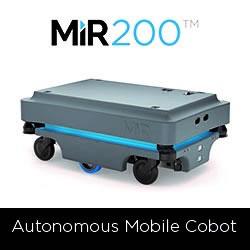 MiR200 is a safe, cost-effective mobile robot that automates your internal transportation. The robot optimizes workflows, freeing staff resources so you can increase productivity and reduce costs. MiR200 safely maneuvers around people and obstacles, through doorways and in and out of lifts. You can download CAD files of the building directly to the robot, or program it with the simple, web-based interface that requires no prior programming experience. With its fast implementation, the robots offers a fast ROI, with payback in as little as a year.