"Vanguard is pleased to have these opportunities to incorporate Ascents CIGS cells into our solar array modules"
THORNTON, Colo.--Ascent Solar Technologies, Inc. (NASDAQ:ASTI), a manufacturer and developer of state-of-the-art, flexible thin-film photovoltaic (PV) modules, was selected by Vanguard Space Technologies (Vanguard) to provide modules for two additional Small Business Innovative Research (SBIR) program that require lightweight, flexible, and durable PV solutions.

Vanguard will utilize proprietary space environment protection technology along with automated manufacturing approaches, combined with Ascents flexible PV, to create a very thin, high power-to-weight ratio, large space solar arrays for space, as well as for novel integration into the wings of unmanned aerial vehicles (UAVs). Ascent will leverage their experience with space-based and demonstrated UAV solar products to provide optimized variants of their production PV.
"We are honored to have been chosen again by Vanguard Space Technologies for these projects," stated Dr. Joseph Armstrong, Chief Technology Officer of Ascent Solar. "Our existing flexible, monolithically integrated CIGS product represents an excellent starting point for a wide range of applications, including Vanguards space and UAV-based products. Our production CIGS represent an excellent option to futuristic solar cells where availability is as critical to mission success as our flexibility, light weight, and durability have been. Our growing relationship with Vanguard represents an exciting partnership for developing new products in these challenging markets."
"Vanguard is pleased to have these opportunities to incorporate Ascents CIGS cells into our solar array modules", said Mr. Matt Wrosch, Manager of Solar Power Systems at Vanguard. "The advent of our extreme environment thin film coatings, automated manufacturing friendly array design, and Ascents proven cell technology provides an excellent fit for our ongoing investigations into next generation durable, affordable, large-area space solar arrays and also extended range UAV solar wing-skins."
About Ascent Solar Technologies:
Ascent Solar Technologies, Inc. is a developer of thin-film photovoltaic modules using flexible substrate materials that can transform the way solar power generation integrates into everyday life. Ascent Solar modules, which were named one of TIME Magazine's 50 best inventions for 2011, can be directly incorporated into standard building materials, commercial transportation, automotive solutions, space applications, consumer electronics for portable power and durable off-grid solutions. More information can be found at ascentsolar.com.
About Vanguard Space Technologies:
Vanguard specializes in the engineering, tooling, manufacturing, assembly and testing of high-performance, lightweight and precision aerospace structures. The companys main product lines include antenna reflectors, spacecraft structures, instrument structures and solar power systems for commercial, defense, military and research satellites. Founded in 1994, and having nearly 20 years of space heritage, Vanguard has extensive experience in composite and advanced, hybrid technologies for spaceborne applications. The company also has a growing business in space power and optical and thermal products including Modular Solar Panels, Flexible Solar Panels, Shielded, Electromagnetically Clean Solar Panels, Solar Concentrators, Deployable Solar Arrays and Deployable Radiator Arrays.
Featured Product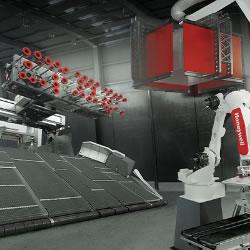 Honeywell Intelligrated is recognized by the Robotic Industries Association (RIA) as a Certified Robot Integrator, with more than a quarter-century of experience providing single-source robotic solutions for high-performance distribution and manufacturing operations. From system concepting, simulation, fabrication and integration to installation and commissioning, training and ongoing support, each solution is approached with a comprehensive lifecycle view to maximize the value of your system.