The MM1 will print everything from plastics to play-doh and will adapt to future technology.
Charlotte, NC October 02, 2014

MakerMex has launched a campaign on Kickstarter to raise funds to manufacture its versatile and innovative 3D printer, The MM1 modular 3D printing system. The MM1 is capable of printing single extrusion, dual extrusion and paste extrusion and will print a wide variety of materials such as rubber, clay, chocolate, high strength industrial plastics, Play-doh, and more.
The funding goal for the MM1 printer is set at $50,000, and the crowdfunding campaign will run for 30 days. Early backers can purchase the MM1 on Kickstarter for a limited-time price of $999. Backers will also be able to purchase the MM1 with select modular add-ons for an additional price. The MM1 is unique because it aims to be versatile enough to adapt to future technologies as they are developed, eliminating the consumers need to buy an additional 3D printer in a few years.
"The possibilities of the MM1 printing system are truly endless," says Sam Weatherly, co-founder of MakerMex. "All of the available add-ons provide a customizable printer for each consumer depending on what their 3D printing needs are. The modular design enables the MM1 to adapt to future technologies, ensuring that this printing system will stay relevant and useful for years to come."
The MM1 comes standard with an extrusion system that prints ABS and PLA as well as other low temperature materials. In addition to that, MakerMex is currently offering four other extrusion systems: a flexible extruder, a dual extruder, a paste extruder and a high temperature extruder. The MM1 printer is designed to be extremely user-friendly so consumers can easily switch materials based on what their printing needs may be at that time. Consumers will also have the ability to customize their printer with accessories such as WiFi capability and auto-leveling beds
The MM1 printer will be available in black and orange, white and silver, and a custom engraved green and white Kickstarter limited edition. In addition to the extrusion systems, backers will also be able to include filament options to their pledges with a wide variety starting at only $34. To learn more about the MM1 printing system, visit the Kickstarter page at http://bit.ly/MMMM1KS.
ABOUT MAKERMEX
MakerMex started when co-founder Luis Arturo Pacheco, an architecture student at Univerisad de La Salle Bajio, began using RepRap printers to develop 3D prototypes for college projects with support from co-founder and brother-in-law Sam Weatherly. While incubating at the Paque CIEN, Luis met co-founder Juan Carlos Orozco, an engineer also experienced in 3D printing and automation. The three went on to create MakerMex, the first 3D printer development and manufacturing company in Mexico To learn more about MakerMex, visit http://bit.ly/MMUSAFB.
Featured Product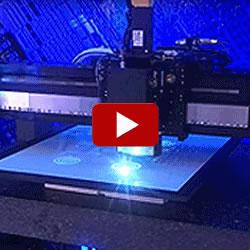 Hexapod micro-motion robots are based on a very flexible concept that can easily solve complex motion and alignment problems in fields including Optics, Photonics, Precision Automation, Automotive, and Medical Engineering.