At Tradesman Manufacturing, Rethink Robotics' Baxter Now Operates Flanger Machine
BOSTON, Oct. 2, 2014 -- Tradesman Manufacturing has joined a growing group of innovative manufacturers using collaborative robots to streamline operations and improve precision, adding Rethink Robotics' Baxter to its workforce in a machine tending role.

Operating a flanger machine, the company's first Baxter is helping to form high-quality and precise HVAC and sheet metal components by placing a galvanized metal tube, operating the machine and removing the tube, creating flanged tubing ready-made for fitting.
Based in Lethbridge, Alberta, Tradesman Manufacturing has been a leader in the HVAC industry since 1986, delivering top-of-the-line residential, commercial and industrial HVAC products throughout western Canada and the U.S. The company is an industry leader in modernization and automation on the plant floor, providing first-class products and materials to major wholesalers and contractors.
"Baxter's flexibility and adaptability is improving our efficiency and product quality every day," said Eric Warkentin, vice president at Tradesman Manufacturing. "This is only the beginning. There are many more applications that are a fit for Baxter, which we'll explore in 2015. We fully expect Baxter to play a significant role in our growth over the next several years."
Tradesman Manufacturing will deploy a second Baxter to tend its adjustable elbow machine, one of the company's highest-volume lines, with more than 80 hours of operation per week. With massive labor shortages in remote Alberta, Baxter is automating a critical gap at the plant - growing Tradesman's workforce in a way that wasn't previously possible.
"Metal manufacturing can be a dangerous, tedious process," said Jim Lawton, CMO of Rethink Robotics. "Tradesman Manufacturing is a true innovator, constantly looking for new ways to better production performance, quality and workplace safety. With Baxter, they have been able to improve in all three of those areas."
For more information, please visit www.rethinkrobotics.com.
About Rethink Robotics
Rethink Robotics, Inc. helps manufacturers meet the challenges of an agile economy with an integrated workforce, combining trainable, safe and cost-effective robots with skilled labor. Its Baxter robot, driven by Intera, an advanced software platform, gives world-class manufacturers and distributors in automotive, plastics, consumer goods, electronics and more, a workforce multiplier that optimizes labor. With Rethink Robotics, manufacturers increase flexibility, lower costs and can invest in skilled labor—all advantages in fueling continuous innovation and sustainable competitive advantage.
Committed to accelerating robotics innovation in manufacturing and beyond, Rethink Robotics' Baxter Research Robot gives academic and corporate research environments a humanoid robot platform with integrated sensors and an open software development kit for creating custom applications.
Based in Boston, Massachusetts, the company is funded by Bezos Expeditions, Charles River Ventures, Highland Capital Partners, Sigma Partners, Draper Fisher Jurvetson, and Two Sigma Ventures. For more information about Rethink Robotics, please visit www.rethinkrobotics.com.
Featured Product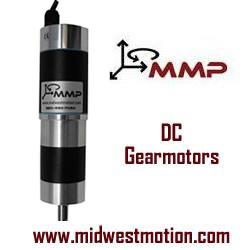 MMP is well known for our Lightning-Fast Delivery Capability, Huge On-Hand Inventory, High Volume Capacity and Time Tested and Proven Reliability Methods. Our 100+ years of combined work experience and being able to deliver continual committed service to design and engineer ideas into reality gives us a competitive advantage in the motion control industry. If you need a sample right away, we can be a project-saving convenience for you, so contact us today!!