Datalogic, a world-class machine vision provider, will be exhibiting at the upcoming VISION show in Stuttgart, Germany November 4th – 6th in booth 1D61.
Telford, PA October 03, 2014

Datalogic S.p.A., a global leader in Automatic Data Capture and Industrial Automation markets, will be featuring the latest innovation in machine vision technology at VISION 2014, including the official launch of their new smart camera and machine vision software, as well as live demonstrations of pattern sortation, mark and read and label inspection applications.
Datalogics new P-Series Smart Camera will be shown in a live demo for the first time ever at VISION 2014. The revolutionary P-Series sets a new standard in the machine vision industry merging advanced Smart Camera functionality in a fully-embedded Vision Sensor form-factor. Embedded lenses and illuminators are fully interchangeable and can be mounted and replaced in the field. Five focal lengths and seven lighting options result in 70 different combinations, delivering outstanding installation flexibility while offering superior image acquisition capabilities.
The P-Series smart camera is powered by IMPACT LITE software, part of the Datalogic IMPACT Machine Vision Software Suite that redefines software functionalities delivering easier and faster device programming while maintaining the traditional interface. With IMPACT LITE, application prototyping and deployment is quicker than ever.
The combination of the new P-Series camera and IMPACT LITE software is ideal for machine vision applications in food & beverage, pharmaceutical and automotive industries where the ease of use, compactness and the price/performance ratio are the most important buying criteria.
In addition to the new P-Series, Datalogic will showcase a wide range of live simulations in booth 1D61:
*Pattern Sorting Tool: A trailblazing pattern matching algorithm able to recognize thousands of different logos and other consumer good graphics, with unmatched reliability and efficiency. Powered by a patented technology, this tool can easily solve sorting applications and overcome challenges such as random object position and orientation, perspective distortions, ambient light variations, clutter and occlusions.
*Integrated Mark and Read Automation System: A live, fully automated system showcasing the integration capability of Datalogics laser marking, machine vision and bar code reading technologies. This solution integrates machine vision with the T47 smart camera, laser marking with the AREX fiber laser marker and fixed industrial bar code readers with the Matrix 300™ imager.
*Label inspection: A live demo powered by the ultra-compact P-Series smart camera, inspects labels for different variables such as product weight, cost, ingredients and current promotions through optical character recognition (OCR).
Featured Product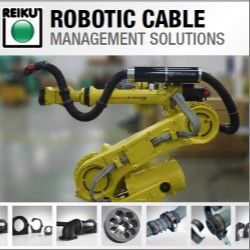 REIKU's Cable Saver™ Solution eliminates downtime, loss of revenue, expensive cable and hose replacement costs, maintenance labor costs. It's available in three sizes 36, 52 and 70 mm. All of the robots cables and hoses are protected when routed through the Cable Saver™ corrugated tubing.The Cable Saver™ uses a spring retraction system housed inside the Energy Tube™ to keep this service loop out of harms way in safe location at the rear of the Robot when not required. The Cable Saver™ is a COMPLETE solution for any make or model of robot. It installs quickly-on either side of the robot and has been tested to resist over 15 million repetitive cycles. REIKU is committed to providing the most modular, effective options for ensuring your robotic components operate without downtime due to cable management. www.CableSaver.com