The certification program was established to provide robot integrators with a way to benchmark against industry best practices and allows robot users to develop a baseline for evaluating robot integrators.
Ann Arbor, MI - Robotic Industries Association (RIA) today announced that QComp has achieved recertification as part of the RIA Certified Robot Integrator program. QComp achieved their initial certification in October 2012 by completing a rigorous process which includes an on-site audit and testing of key personnel among other important criteria. The certification program was established to provide robot integrators with a way to benchmark against industry best practices and allows robot users to develop a baseline for evaluating robot integrators:

"We are thrilled QComp found significant value in the program and pursued recertification," said Jeff Burnstein, President of RIA. "QComps recertification reaffirms their effort to provide a high standard of quality service to their customers. One of our goals with the certification program is to provide robotic automation integrators with a means to establish performance guidelines that helps ensure long term success."
"RIA certification confirms the higher standards that QComp has maintained as our routine practice," said Tom Doyle, President, QComp Technologies, Greenville, Wisconsin. "Adding three more certified technicians to our engineers that passed the testing at the Expert level shows the dedication and competence of the QComp staff and our internal emphasis on training. Benchmarking our processes and engineering competence against other top robotic integrators helps establish QComps place in the market as an experienced, competent and customer focused integrator."
Detailed information on the certification program and the certified robot integrators can be found on a special section of Robotics Online. Integrators interested in becoming certified can contact Jeff Burnstein or 734/994-6088.
RIA cannot guarantee the work of any integrator or recommend which integrators to choose. Robotics customers should conduct their own due diligence on the suppliers they select. RIA has over 60 system integrator members and looks forward to having more of them go through the certification process in the near future.
About Robotic Industries Association (RIA)
Founded in 1974, RIA is a not-for-profit trade association dedicated to improving the regional, national and global competitiveness of the North American manufacturing and service sectors through promotion and enhancement of robotics and related automation. RIA represents over 340 robot manufacturers, system integrators, component suppliers, end users, consulting firms, research groups, and educational institutions. The association hosts a number of events including the International Collaborative Robots Workshop, the National Robot Safety Conference (October 14-16, 2014 in Ann Arbor, Michigan), the Robotics Industry Forum (January 21-23, 2015 in Orlando, FL) and the biennial Automate Show & Conference (March 23-26, 2015 in Chicago). RIA also provides quarterly robotics statistics and has a content-rich website, Robotics Online. For more details on RIA, visit Robotics Online or call 734/994-6088.
About Association for Advancing Automation (A3)
The Association for Advancing Automation is the global advocate for the benefits of automating. A3 promotes automation technologies and ideas that transform the way business is done. A3 is the umbrella group for Robotic Industries Association (RIA), AIA - Advancing Vision + Imaging, and Motion Control Association (MCA). RIA, AIA, and MCA combined represent 775 automation manufacturers, component suppliers, system integrators, end users, research groups and consulting firms from throughout the world that drive automation forward. For more information, please visit our websites: A3; RIA; AIA; MCA.
About QComp Technologies, Inc.
QComp Technologies, founded in 1990, is an automation systems integrator specializing in material handling automation solutions. We have designed and installed hundreds of robot based automation systems throughout the United States. QComp is known for our superior engineering capabilities, strategic partnerships, vast industry knowledge and comprehensive support systems. But it's our customer-focused approach to our projects that separates us from many of our competitors. Our team of dedicated, electrical engineers, mechanical engineers, programmers and technicians make us what we are today. Their talents, experience and passion for their work help instill a sense of trust and confidence in our customers throughout the duration of the projects.
Featured Product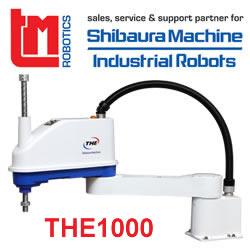 Designed for assembly and inspection applications in the electronics equipment and automobile components industries, the THE600 SCARA is a powerful automation tool. Advancing from the specifications of the existing THE400 SCARA, the THE600 has been developed to meet growing demand for fast-cycle automation. The THE600 model includes improvements in synchronised control and tracking precision. The THE600 is compact in design and offers improved high speed, with 60 per cent higher payload capacity than competing SCARA models in the same price range, making it the price-to-performance leader. Affordable price, impressive performance.