Torque Transmission's new addition to their right angle gear boxes and speed reducers features small size with big features. Only 1.25 inches in height, width and length, the RA-300 gear drive is rated for 1/8 hp at 1800 rpm.
Fairport Harbor Village, Ohio October 14, 2014

Torque Transmission has added another tool for motion control design engineers to its lineup of high-quality right angle gear boxes and speed reducers: the Miniature RA-300 Gear Drive.
The Miniature RA-300 Gear Drive measures 1.25 inches in height, width, and depth and features 0.250-inch diameter single input shaft, and single or double output shaft mounted in radial ball bearings.
The RA-300 is a machined aluminum housing, steel case hardened helical gears in 1:1 and 2:1 ratios. The RA-300 is rated for 1/8 Hp at 1800 rpm with output torque of 4.4 inch lbs. (1:1 ratio) and 8.8 inch lbs. (2:1 ratio). Total weight of the unit is 6.1 oz.
"Our high-quality right angle gear boxes and speed reducers are manufactured for a wide spectrum of applications," said John W. Rampe, Torque Transmission's president. "We most likely have a right angle gearbox and speed reducer to fit your needs. If we don't, please let us know and we'll modify or custom design a speed reducer for your specific application. We invite design engineers to use our website, http://www.TorqueTrans.com, as a resource to access complete specifications including 3-D drawings for all of our products."
"Our application support is always available to help size the correct reducer for your product.," Mr. Rampe continued. "If your specification is different from our standard gearboxes, we will work with you toward a creative and economical solution."
About Torque Transmission
Torque Transmission built its reputation as a reliable provider of fractional horsepower, (1/20th to 1hp), motion control components since 1960.
Torque Transmission's key advantages include:
*Standard and custom product lines
*Prototyping
*Manufacturing consistency
*ISO 9000-2008 certified
*Off-the-shelf availability of popular standard products
Torque Transmission's product line consists of Timing Belt Pulleys, Thrust Bearings, Right Angle Gearboxes and Speed Reducers. Torque Transmission brand motion control components can be found in industries such as food processing, medical, point of purchase, automotive, printing, semi-conductor manufacturing, sports and many others.
Torque Transmission can shorten your time to market with time-proven and cost effective solutions. For more information, including white papers, case histories, product specifications and 3-drawings, visit http://www.torquetrans.com. For immediate assistance with your application, contact Torque Transmission at sales(at)torquetrans(dot)com or 800-544-6642.
Featured Product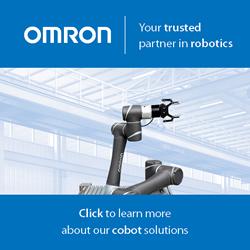 Humans and robots can now share tasks - and this new partnership is on the verge of revolutionizing the production line. Today's drivers like data-driven services, decreasing product lifetimes and the need for product differentiation are putting flexibility paramount, and no technology is better suited to meet these needs than the Omron TM Series Collaborative Robot. With force feedback, collision detection technology and an intuitive, hand-guided teaching mechanism, the TM Series cobot is designed to work in immediate proximity to a human worker and is easier than ever to train on new tasks.