RoboBusiness -- Oct. 15-17, Hynes Convention Center, Boston
BOSTON, Oct. 15, 2014 -- RoboBusiness (Oct. 15-17, Hynes Convention Center, Boston), the leading business development event for the global robotics market, is thrilled to announce the winners of the 2014 Game Changer Awards, honoring the robotics industry's remarkable technical accomplishments and their makers.

The Game Changer Awards are proudly produced by Robotics Business Review. Winners were selected by a panel of judges, including Robotics Business Review editors, technology experts from the International Journal of Advanced Robotic Systems and authorities from the investment community. Judges rated products based on the following criteria: standout attributes, design, functionality, benefit to robotics and impact within its primary application area.
"Game Changers is an awards program for robotics visionaries," says Tom Green, Editor in Chief, Robotics Business Review. "These winners represent products leading the way in critical technology categories. Long after the award presentation, Game Changer Award winners remain in the public eye, as they should."
Winners will be honored with plaques during the Welcome Reception of RoboBusiness on Wednesday, October 15 at 6:15PM. Winners are also profiled online at RoboBusiness.com and Robotics Business Review.com, reaching a global audience of more than 36,000 robotics enthusiasts. Both winners and finalists can be viewed online at http://www.roboticsbusinessreview.com/gc.
Following are the winners of the 2014 Game Changer Awards:
Autonomous Navigation: Kairos Autonomi's Uomo
Data Collection Platform: Clearpath Robotics' Kingfisher Unmanned Surface Vessel
Domestic Automation: iRobot Scooba 450 Floor Scrubbing Robot
Education: Rethink Robotics' Baxter Research Robot
Gripper: Grabit, Inc's Grabit 2518 and 2536 Grippers
Industrial Productivity: Andrew Alliance's Andrew Automated Pipetting Robot
NextGen Game Changer: Harvard University's Mobility Enhancing Soft Robotic Exosuit
About RoboBusiness
RoboBusiness, in its 10th year, is an international executive-level robotics event that connects cutting-edge solutions providers with investors, end users and new business partners to accelerate the growth of the industry. For more information, please visit www.robobusiness.com. Follow us online at Google+, LinkedIn, and Twitter at @RoboticBusiness.
Featured Product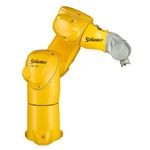 TX2 robots: redefining performance by offering collaborative safety and high performance in a single machine. These pioneering robots can be used in all areas, including sensitive and restrictive environments, thanks to their unique features. Safety functions are easy and inexpensive to implement. They allow a higher level of interactions between robots and human operators, while still guaranteeing protection of your people, production and investment.