The TALON V Robot is the first in its class to be IOP compliant as defined by the U.S. Army
Waltham, Mass. -- October 15, 2014 -- QinetiQ North America (QNA) today introduced the TALON V at the 2014 Association of the United States Army (AUSA) Annual Meeting in Washington, D.C.

TALON V is the first and only tactical, man transportable robot that has successfully completed the U.S. Army's TARDEC Interoperability Profile (IOP) testing. Enhanced electronics and software, and the ability to use third party components gives the robot increased performance capabilities, flexibility, and system level modularity for greater mission effectiveness.
Key features include:
*16 total I/O ports including IOP A and B connectors
*JAUS AS4 compliant software that supports plug and play discovery of IOP devices
*New and improved top speed and high torque drive motors capable of climbing a 46 degree staircase
*1080i HD and standard definition camera options
*IOP compliant, advanced heavy lift multi-degree of freedom manipulator that can lift up to 65 pounds
*User-defined graphical interface
*Tool-less track tensioning system and improved serviceability
"Throughout its history, TALON has had industry-first and industry-leading features that protect the lives of those who protect us," said Dr. Andrew Rogers, president of QNA. "TALON V is another example of the innovation that can happen when industry listens to and responds to the needs of our country's military."
More than 4,000 of QNA's TALONs are deployed globally and used for counter-improvised explosive device (CIED) missions, police operations and domestic and international hazardous material missions. To date, TALONs have participated in approximately 300,000 combat missions and have defeated over 50,000 IEDs. On average, a U.S. military TALON robot in Iraq and Afghanistan is repaired as many as 13 times from significant IED damage.
About QinetiQ North America
QinetiQ North America (QNA) is a subsidiary of QinetiQ Group plc, the FTSE250 company listed on the London Stock Exchange (LSE:QQ.L). QNA delivers world-class technology and revolutionary products to defense, security and commercial markets worldwide. Our product offerings include survivability, unmanned systems, power sensors, control systems and transportation solutions. Customers rely on our products to increase readiness, improve mission effectiveness, streamline operations, increase situational awareness and enhance security. QNA is headquartered in Waltham, Massachusetts. For more information visit www.qinetiq-na.com.
Featured Product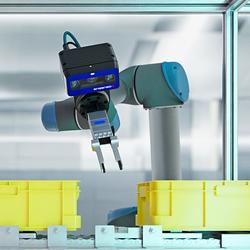 IDS NXT: a platform for a new generation of vision systems for industrial applications. It lays the groundwork to provide easy-to-use yet flexible complete systems that can be used to implement all steps of a vision solution. With IDS NXT ocean, a complete solution especially for AI-based image processing is now available. It allows to solve tasks where classic, rule-based image processing has reached its limits - without any programming effort.