Due to increased customer demand and the need for more manufacturing space, we've doubled the size of our corporate headquarters.
Midwest Engineering Systems Inc., an innovative provider of premier custom machines and integrated systems is proud to announce the move of its corporate headquarters to a larger facility in Pewaukee, WI.

Due to increased customer demand and the need for more manufacturing space, Midwest Engineering Systems is doubling it's building size by moving the corporate headquarters to a 100,000 square foot facility in Pewaukee, WI. In the last 6 months, the company has also opened a 5,000 square foot Engineering office in Beloit, WI and a possible 50,000 square foot welding & service manufacturing facility in Colorado to keep up with our customers high demands.
"The move to our new expanded location is an exciting time for all of us at Midwest Engineering Systems, who are earnestly working to make this transition seamless." said President Scott Woida. "We have spent the last 6 months renovating the facility to include everything we need to support our efforts become the top automation integrator in the nation."
The new facility includes:
• 20,000 square foot Machine Shop
• 20,000 square foot "Clean" Assembly Area
• 45,000 square foot High-Bay Assembly Area
• UL Panel Shop
• Paint Booth
• Fabrication & Welding Shop
• Overhead Cranes
• Engineering Offices and Conference Rooms to accommodate over 100 engineering and support staff
Midwest Engineering System's new corporate headquarters will be located at:
W238N1800 Rockwood Drive, Pewaukee WI 53188.
The new Rockwood Drive facility will be a state-of-the-art engineering, manufacturing and assembly facility.
While our headquarters' addressed has changed, all other contact information will remain the same:
Website: www.mwes.com
Email: Info@mwes.com, support@mwes.com, & service@mwes.com
Phone: 414-327-0000 & 866-880-MWES
Midwest Engineering Systems Inc. is committed to providing simple solutions to complex automation problems. Our engineering staff has technical expertise that includes a diverse knowledge base, building thousands of custom automation systems over the last 20+ years.
For more company information and news visit: http://www.mwes.com/blog
Midwest Engineering Systems Inc. has been providing high-quality custom machine design and automation solutions since 1991.
Featured Product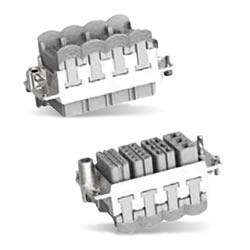 TE Connectivity's HDC Dynamic Module integrates the Dynamic series flexible signal and power solutions and the HDC Heavy Duty Connector series to form a solution of harsh environment connectors. TE's HDC Dynamic Module offers the top features of the two series. It uses the contact concept of the Dynamic series, with its proven performance in industrial uses and its cost effectiveness compared to legacy cutting contacts. The HDC connectors make the module a reliable solution for harsh environments. TE's HDC Dynamic Module supports 2A/32V to 40A/300V performance and 3 positions to 48 positions.