Event brings together thousands to experience the journey to The Connected Enterprise
MILWAUKEE, Oct. 16, 2014 — The manufacturing sector is on the cusp of unprecedented change, when operations and information technology seamlessly and securely converge to generate actionable data that leads to more profitable decisions. The tools, technologies and solutions that enable this new Connected Enterprise will be the focus of the 2014 Automation Fair event, hosted by Rockwell Automation and the members of its PartnerNetwork program.

The annual automation industry event is expected to bring together thousands of manufacturers, industrial operators, analysts and global media to the Anaheim Convention Center in Anaheim, California, from Nov. 17 to 20.
"Our vision for a Connected Enterprise is characterized by industrial operations that are more nimble and sustainable, while driving greater productivity," said Keith D. Nosbusch, chairman and CEO, Rockwell Automation. "The 2014 Automation Fair event will offer a wealth of opportunities for attendees to learn how they can differentiate themselves and improve their global competitiveness."
On Nov. 19 and 20, the company will host more than 140 exhibitors, comprised of its PartnerNetwork members, universities and industry media. Exhibits will showcase the newest and most advanced power, control and information solutions available to securely share information across processes, facilities, suppliers and consumers. Attendees will learn how secure information access leads to better collaboration, faster problem solving and improved innovation.
At the event, attendees can work directly with Rockwell Automation products and technology at 18 hands-on labs and participate in any of the 17 demonstration workshops or 99 technical sessions available. During nine industry- and audience-specific forums, customers and experts will share best practices for the following industries and segments: engineering and consultants (EPCs), food and beverage, machine and equipment building, mining, oil and gas, power and energy management, safety for OEMs, safety for end users, and water wastewater.
The week will kick off with the Process Solutions User Group (PSUG) annual meeting and Automation Perspectives global media forum.
Process Solutions User Group (PSUG): On Nov. 17 and 18, operations, IT and engineering professionals in process industries can select from 20 educational sessions, hear presentations from more than 24 customers, and network with peers and leaders. During the technology-voting session, attendees can voice valuable feedback used to direct the development priorities and the technical roadmap for the PlantPAx process automation system from Rockwell Automation.
Automation Perspectives Global Media Forum: On Nov. 18, from 8 a.m. to 1 p.m., industry media members from more than 20 countries will gather to hear from automation industry experts about how they are operationalizing their own Connected Enterprise strategies. Through their stories, media will learn what The Connected Enterprise journey entails, how it is creating value, and why those not on-board are putting themselves at risk.
To register for the 2014 Automation Fair event, PSUG or the Automation Perspectives global media forum, visit http://www.automationfair.com.
Featured Product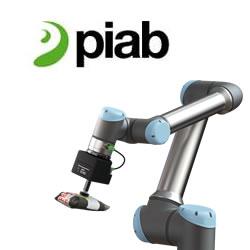 Piab's Kenos KCS gripper enables a collaborative robot to handle just about anything at any time. Combining Piab's proprietary air-driven COAX vacuum technology with an easily replaceable technical foam that molds itself around any surface or shape, the gripper can be used to safely grip, lift and handle any object. Standard interface (ISO) adapters enable the whole unit to be attached to any cobot type on the market with a body made in a lightweight 3D printed material. Approved by Universal Robots as a UR+ end effector.