Most Powerful and Efficient HVLS Fan on the Market
SAN LUIS OBISPO, Calif., Oct. 20, 2014 -- Trust Automation, Inc., the world's leading developer of linear servo drives, creator of custom and standard high precision motion, motor control and system design as well as complete power train devices for multiple industries, today announced its successful contribution to MarcoAir's AirVolution-D containing a unique topology compact electric motor capable of handling the consistent torque requirements of a 24-foot diameter industrial fan in a gearless direct drive (D-Drive) system.

The fan delivers 50% greater continuous horsepower than current High-Volume Low-Speed (HVLS) fans on the market. D-Drive eliminates the need for a gearbox, making it 45% lighter and containing fewer moving parts. AirVolution-D is the most reliable, most efficient, lightest, quietest HVLS fan line on the market today (http://macroairfans.com/airvolutiond/).
"Trust Automation is known for its ability to design and develop custom solutions for the most difficult projects," said Dave Rennie, Vice President of Business Development. "We engineered and manufactured system solutions to contribute to an advanced technology finished product for MacroAir."
Custom Solutions Provided by Trust Automation www.trustautomation.com:
*The custom designed "donut shaped" controller/drive exactly fits the circular motor/heatsink housing
*Advanced firmware, Digital Signal Processor (DSP) and power electronics take full advantage of the unique motor topology, operating sensorlessly at high torque and very low speed
*Controller efficiencies reaching extremely high system efficiencies
*Advanced thermal management, low air flow, -10 degrees C to +60 degrees C operation
*Wide AC voltage input range of 100-600VAC, allowing a single controller design across entire range
*NEMA 67 rated drive assembly for wash-down
About Trust Automation
Trust Automation operates on a foundation of exceeding its customers' expectations in automation systems, developing motion and motor control solutions for the defense, semiconductor, industrial automation, green tech, and medical industries. Trust Automation has ongoing success with DARPA, IARPA, and DoD contracts. Trust Automation has almost 25 years of experience in; custom motors, controllers, motor drives and machine systems which meet the unique needs of its customers. Its product line includes; linear servo drives, high performance servo motors, standalone motion controllers, custom assemblies and products to fit unique applications and ground-up system design and manufacturing solutions. For more information please visit www.trustautomation.com or call 805-544-0761.
Featured Product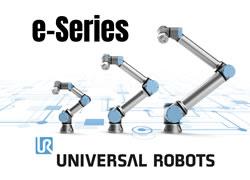 With the new e-Series cobot line, Universal Robots raises the bar for cobots, adding unique new features while significantly strengthening the four core principles defining collaborative robots: fast set-up, easy programming, flexible deployment, and safe operation. With a new built-in, tool-centric Force/Torque sensor the e-Series is ready to take on applications requiring force control right out of the box. A repeatability of 30 micron means the new cobots are suitable for very precise finishing, assembly and electronics tasks. A re-designed user interface decreases cognitive load and expedites program development, while a new externally accessible, 500Hz system bus enables more complex motion control algorithms or profiles.